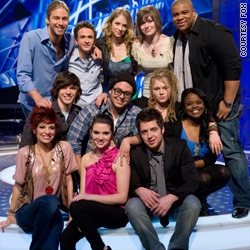 Welcome to the week for which  so many of us have been waiting.
We now have our "American Idol" Top 12 and Tuesday night the gang takes on music from the Rolling Stones. This could be really cool - or a complete and utter disaster.
Will any of the contestants step up and select one of the more hard-rock Stones tunes, or will they play it safe with the softer side of the Jagger-Richards catalog ("Wild Horses," "Angie," "Ruby Tuesday")? Will tonight be a sweet spot for Lee Dewyze, who is arguably the most rocker-oriented of this year's group so far?
(My editor wants to hear someone dare to do "Stray Cat Blues" or "Monkey Man." Good luck, I say.)
These and all other questions will be answered Tuesday night when the Top 12 take to the stage. I so can't wait!
Join CNN tonight and  throughout the "American Idol" season as Lisa Respers France blogs live during the performance and result shows.