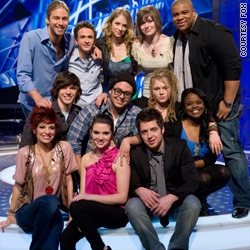 9:54 p.m. – Lots of Daddy tears tonight.
This time they come courtesy of PapaSox, who is emotional over his baby, Crystal Bowersox.
He oughta be, 'cause MamaSox is so on it you have to resist the urge to just hand her the title now. She sings her version of "You Can't Always Get What You Want" like she wrote the song.
It was a little bit sleepier than I expected, but there is no denying that she is the most confident and poised of any of this year's contestants.
The girl is just bad (and by "bad" I mean "so good").
9:43 p.m. – I can see folks wanting Aaron Kelly to be the "baby Justin Timberlake," but I wouldn't go that far.
I liked his cover of "Angie" and all, but he doesn't yet have that star quality JT has, or had back when he was doing the boy-band thing. That being said, the girls love, love, love Aaron and that's going to mean big votes.
He's got a really nice voice and he's a cutie so he is easy like Sunday morning as far as I am concerned. (I am subliminally hoping the producers do a Commodores week so they can bring Lionel Richie back to the show.)
9:37 p.m. – We have at least two church singers this year in Lacey and Paige Miles.
And Paige is back! Her "Honky Tonk Women" managed to rock out a little, and she even gave it a smidge of Tina Turner lite.
Given the fact that she has laryngitis and wasn't even able to rehearse I say she worked it out. Nice job.
9:27 p.m. – Is Ryan seriously quizzing Lee Dewyze on paint colors? Utter foolishness.
Lee chooses to do the Dave Matthews' version of the Stones "Beast of Burden" and I like it. Would have rather seen him rock it out more, but I like his voice.
It was a smooth performance and I think one of the best tonight. Kudos to Ellen for saying that it "almost didn't come together like a hospital gown."
And are Ellen and Kara trying to be as far apart as possible? You could drive a truck through that gap between them.
9:15 p.m. – Siobhan Magnus has some super-huge glasses. I smelled an "Idol" makeover in the works, and sure enough she comes on stage looking like Pat Benatar's kid from the 1980s.
Raise your hands if you just knew Siobhan was gonna sing "Paint It, Black." Yeah, me too.
I am super-confused why the judges loved this performance so much. The only reason Kara should have been reminded of Adam Lambert is because of the stairs.
Sure there was drama, but there were also some notes I've only heard when I stepped on my parents' cat. Adam had a big voice, but he also had the control.
Is this really gonna be how it goes this season?
9:06 p.m. – Tim Urban is "The Comeback Kid?" More like the "Thank Your Lucky Stars Kid."
He is a cutie, but up until last week his singing hasn't been all that adorable. His version of "Under My Thumb" was too laid back.
He seems less nervous now and I could see him trying to be easy with the Reggae flavor infused into the arrangement. though it's clearly not his style. Simon said it didn't work and Seacrest came with, what I thought, was the more cutting "Yeah, you gotta wonder what the Stones would think if they saw it."
Tim's trying, poor kid.
8:56 p.m. – I love the baby picture of Katie Stevens in a pot. Everyone should have a super cute shot like that.
I am so glad Katie chose "Wild Horses" and the lighting was very Adam Lambert from last season. Just Katie, a stool and an arrangement. She's got a great voice and is so cute in the little poof dress.
She's definitely a little girl with a big voice, but I'm not sure she entirely got her arms around that song. It was missing the "wow" factor I was expecting.
And Randy actually admitted that the judges have been giving "misdirection." Ya think?
8:44 p.m. – There is just something about Andrew Garcia.
I dig his vibe and his dad touched me with his tearful interview. I just so want to see this kid make it. I feel his love of the music.
"Gimme Shelter" is not the song I would have picked for him and he doesn't seem very comfortable even though he tries to work the stage. He just didn't sound all that great.
So far tonight, I don't really feel like the contestants are connecting with the songs and that could be because the music was written before any of these people were born.
Simon brings up the "Straight Up" performance yet again. I need the judges to move on already and stop living in the past! When Kara and Simon start arguing, I swear I miss Paula the most. It's just not as much fun.
8:34 p.m. – Finally we get a daddy with Lacey Brown's papa. He's so proud!
"Ruby Tuesday" in the hands of Lacey is a bit too airy for me initially. It's not an easy song to sing and she ends it on a rough note. Very shaky.
The jury is still out for me with this chick. I feel like I should be more of a fan.  She's right about that new stage being huge. Holy smokes!
And the most constructive criticism Ellen can offer is to pay attention to how she stands and sits during a performance?
Oh brother.
8:23 p.m. – It is officially a Mamathon on "Idol" tonight. This time around we get to hear from Casey James' mama before he sings "It's All Over Now."
I like him so much better after this performance. It was kind of hot and his voice had a Chris Robinson from the Black Crowes type of vibe.
And we get a glimpse of the Ellen we want to love when she makes jokes about "people like her" - meaning blondes. Funny.
8:17 p.m. – Didi Benami is looking lovely. She says her mother, Mary, can't watch her be judged. I can relate because you better not say anything about Ms. Pat's oldest daughter either!
Love that she calls her "Mommy Benami." Didi sings "Play with Fire" and I have never heard this song before in my life. Despite that, her phrasing sounds a bit affected.
I didn't love this performance, but Randy was digging it. The song was dark, Didi was dark and I was getting sleepy.
Didi says everyone has seen this really emotional side of her up until now. If you mean bawling thanks to nerves, than yeah.
8:05 p.m. – The Rolling Stones are the "most iconic band in the world?" If Seacrest says it, it must be so.
The personal back stories are back and we learn that Michael Lynche lost his mama and used music to help heal him. I like his version of "Miss You." He made it very soulful. The judges are loving it and we have our first "swagger" comment of the season from Kara.
I hope that Ryan and Simon's bantering isn't meant to replace the love the latter and Paula shared cause it won't. Nothing could ever replace that magic.