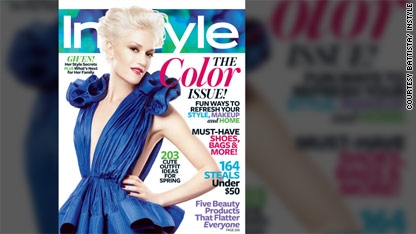 She's an international star, a fashion designer, a mother of two and - on top of that - she gets to be married to Gavin Rossdale.
Yes, Gwen Stefani leads a good life, and she knows it. She just doesn't know how she got there.
"I don't know how I got so lucky – how all this happened to me," she told InStyle magazine for its April issue. "If you were in my shoes, you'd be blown away too."
In the cover story, on newsstands Friday, Stefani told the magazine that her career as a fashion designer was launched as the backup plan for when her music career comes to a halt.
"I wanted so badly to have a backup plan for when I'm not performing anymore. Let's be realistic: It's not going to be like this forever," Stefani said. "So I wanted to continue having something creative to do. I have to be creative to be happy. I don't have a strong sense of self-worth unless I'm doing something. I was a different person before I started to write. When I realized I could be a songwriter and that people would listen–that was when I started feeling good in my life."
Another thing that makes Stefani - and her husband - feel good? Her trademark, perfectly applied lipstick.
"I wear it all the time. I wear pink, I wear gloss, I wear everything, but my husband prefers when I wear red, so I want him to like me still," Stefani said in the interview. "I remember the first time I ever wore dark lipstick. I was maybe 18, and I can remember the moment I put it on – in my Honda Prelude that I bought for, like, $3,000 – and looking in the mirror going, 'Good, I like that.' Never again did I stop wearing it."