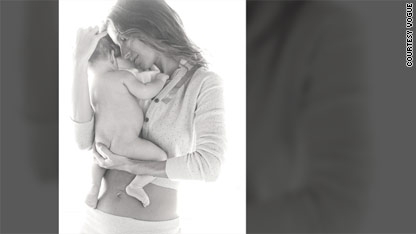 Gisele Bündchen, whose willowy curves have rocked runways as well as the pages of everything from Victoria's Secret to Vogue, revealed her "earth mother" side to the fashion magazine in an interview for Vogue's April issue.
The 29-year-old model said she wanted to name her first son River, "because I wanted something always flowing, immortal."
Husband Tom Brady, however, wasn't having it.
"My husband said 'There's no way we're going to call him River,'" she told the magazine, and so the couple settled on Benjamin Rein. "My father's name is Reinoldo, so it's a homage to him. And it's like water."
Water was the central theme for Bündchen's birth – she meditated her way through labor at home in a deep tub filled with warm water overlooking the Charles River in Boston, Massachusetts.
"I wanted to experience the transformation," Bündchen said. "It was the most amazing experience of my life, feeling him come through my body."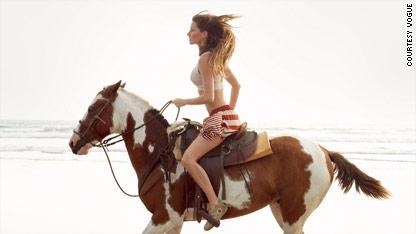 The model hasn't been slowed down at all by her first child – she was up the next day, puttering around the loft she and her NFL quarterback husband share, and delved right back into her yoga routine, which was all she did to get back to her pre-pregnancy shape.
"I think it's muscle memory," Bündchen said, combined with the fact that she was health-conscious throughout her pregnancy.
"I did kung fu up until two weeks before Benjamin was born, and yoga three days a week," she told Vogue. "I think a lot of people get pregnant and decide they can turn into garbage disposals. I was mindful about what I ate, and I gained only 30 pounds."
Bündchen also has something in common with Beyoncé: Both the supermodel and the superstar have quiet, tame alter egos when the stilettos are off and they're out of the spotlight.
"I've worked for 14 years, but I don't think anybody in the business really knows me, because there is that other person," she said of the persona she created when she was a teenager on the fast track to becoming a household name.
"People were asking, 'How does it feel to be the model of the moment?' It was hard for me to answer as myself. I barely spoke English," she said. "I thought, I have to give my best because they trust me with that. I invented this other person, and she could do everything. She wasn't afraid; she was able to be ballsy and risky and sexy or androgynous. She was bold. I had to believe in myself as this person that was strong, up-front, invincible, and positive, who knew what she was doing, even though I really didn't."