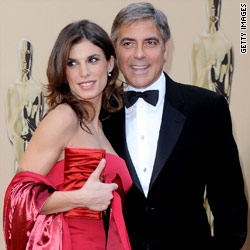 George Clooney's girlfriend Elisabetta Canalis will lend some "exotic mystery" to the third season of the TNT drama "Leverage," according to a press release for the show.
Canalis is already a star in Italy from her movie roles and job as a television presenter, and was tapped by "Leverage" executive producer Dean Devlin to play the part of "The Italian."
She'll appear in five episodes of the Robin Hood-esque series, which follows a group of con artists as they get revenge on people who use their power and wealth to victimize people. The new season is set to air this summer on TNT, which is owned by the parent company of CNN.