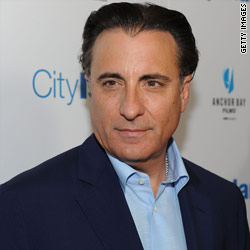 Andy Garcia is an Oscar-nominated actor, a doting father and a long-married husband ... but did you know he's also a determined businessman?
For his latest flick, "City Island," a small-budget family comedy, he spent most of his time behind the camera trying to get investors to dole out dollars for his latest passion, he told CNN.
"Financing was the toughest part about doing this film. Half of the money to make this film came from outside of the United States," said Garcia.
That's because most studios passed on it, he said. "All of the studios in the U.S. passed on our movie except for Anchor Bay Studio.  Some of the studios just didn't want to take a chance."
So with his Hollywood muscle and his name - and helped by director Raymond De Felitta - Garcia got "City Island" made. The final product stars Garcia, "The Good Wife's" Julianna Margulies and the legendary Alan Arkin - as well as Dominik Garcia-Lorido, who's also Garcia's daughter. She plays a young woman who takes a job as an "exotic dancer" to finance college.
"His daughter began the process of auditioning. She had already auditioned for HBO's 'Entourage' and she was good," said director De Felitta.
The film premiered at the Miami International Film Festival.
The film was shot in 28 days and Garcia says one of the things he is most proud of is the fact that Oscar winner Arkin signed on. "I would now love to work with Alan Arkin as a director. He's great," Garcia said.
Who knows? Arkin might just return the favor.