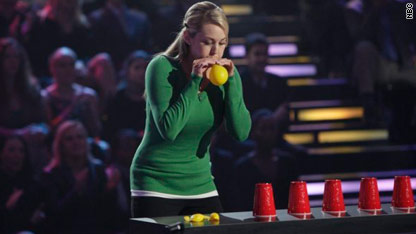 Remember the classic game show "Beat the Clock," where contestants performed silly physical stunts for prizes?  What if you took that game and added 21st century theatrics and enough dramatic pauses to drive you batty?
You'd have "Minute to Win It," the new million dollar game show that premiered Sunday night on NBC.
The show is simple enough - successfully perform 10 stunts to win $1 million - but the presentation is convoluted and frustrating.
The show suffers by embracing some of the traits and gimmicks common in recent prime time game shows, such as money trees, lifelines, dramatic mood lighting  and awkward cuts to commercial.  The latter was extremely blatant, with the show going to commercial several times before stunts were about to begin.
The camera work also gave me a headache during the stunts.  Was there a real reason to go from video to film to "cinema verite" and back again, outside of someone thinking it "looked cool"?
The stunts themselves were unique - I especially liked one where a contestant had to stack 10 heavy hex nuts (the ones you buy at the hardware store) using a chopstick.  But every stunt had to be introduced with dramatic, over-hyped fanfare, complete with the disembodied voice of a British-accented woman explaining how each stunt worked.  "Minute to Win It" already has an on-camera host - wouldn't it have been easier to have Guy Fieri explain the games?
Fieri wasn't too shabby as host.  He had a good rapport with the contestants, and he looked genuine when discussing his excitement for the show. But there were times where Fieri made comments that had me scratch my head in disbelief.  Why talk about a contestant setting a show record in a stunt when he's apparently the first contestant in show history?
There were also times where you could tell that Fieri's comments were added in post-production, long after the taping concluded.  A number of recent prime time efforts ("Deal or No Deal" and "Million Dollar Password" come to mind) had the same problem, making the shows look slipshod and rough in the final cut.
In the end, "Minute to Win It" looked like what I feared - a show that was rushed into production by a network needing to fill holes in a post-Olympics and post-Leno prime time environment.  If you want to see how a show like this can work, go to YouTube and check out episodes of "The Cube," the British game that "Minute to Win It" appeared to get much of its inspiration from.  Or, better yet, watch some old "Beat the Clock" clips.