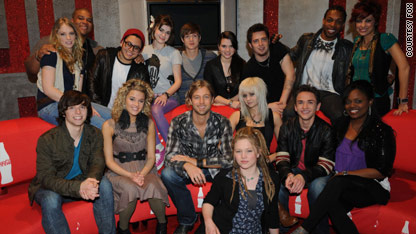 testing captions
*The following blog will contain spoilers about who's removed from "American Idol." You know the drill - if you don't want to know anything, stop reading now.
8:56 p.m. – Back from commercial break, and everyone is still loving up on Alex. AWWWWWW.
As soon as Seacrest gets him off the stage, we are left with Katie Stevens and Lilly Scott, who are up for the last seat and it goes to:
KATIE!!!!!
Super stunning! I thought America was in love with Lilly and clearly so did Katie, because she looked like she didn't believe it. Seacrest is right there to ask Lilly what is going through her mind. She is so poised - and that couldn't have been me. I'd probably say "What do you think is going through my head right now, fool?" and give him major evils.
I like Katie, but I think Lilly would have brought something unique to this season.
8:42 p.m. – "Big Mike" Lynche looks like he is practicing some type of bodybuilder stress release method.
Crystal "MamaSox" Bowersox gets the word that she is a finalist and she doesn't look very happy. Didn't even seem to crack a smile. Wonder what's up with that?
Big Mike dwarfs Seacrest anytime he comes within 10 feet of him. The big man with the big voice is a finalist, and he goes and takes his seat.
There was a bit of a fake-out with Lacey Brown. From the set up, I thought she might have something to worry about, but she is safe. Same with Aaron Kelly. I think he would have been devastated if he hadn't made it, but no worries because he does.
It comes down to Alex Lambert and Andrew Garcia. Did Andrew peak too soon? No! He's through to the Top 12!
Poor Alex. He's in tears, and even his mullet looks deflated (just joking, I kid because I love). It makes me sad when they have to sing before they leave, and Alex looks like he's not going to be able to make it through to the end. He just looks so crushed. Poor kid.
8:33 p.m. –So are they planning to bring everyone back from Season Eight? So far, we have been treated to performances by Allison Iraheta, Kris Allen and Danny Gokey.
This week, it is the piano men, Matt Giraud and Scott MacIntyre. Of all the Billy Joel songs they could have done, "Tell Her About It" is not the one I would have guessed. Scott has an album, and Matt had a No. 1 jazz duet on iTunes. Wonder what everyone else is doing ...
8:23 p.m. – This line-up of Tim Urban, Todrick Hall,  Lee Dewyze and Casey James was looking pretty bummed out. They all looked so tense!
First to take a seat as continuing in the competition is Casey. We know Kara is happy. Next up as safe is Tim,  and he looks stunned. He needs to be looking grateful because his Wednesday night performance made all the difference.
That leaves Todrick and Lee and really, did we not know that Lee was safe? No shocker here at all.
MamaSox is looking crazy mad that Todrick has been voted off! She even sheds some tears. That's cause my man has a good voice. He just never caught hold.
8:12 p.m. – Must we dim the lights every time we have the results?
First up is Didi Benami, and she's approved to go sit in one of those crazy-looking chairs that look super uncomfortable. Next up, Sibhoan "Dark Horse" Magnus is also in, but I disagree with E's advice for her to keep doing what she has been doing. This competition is all about growth.
We are down to Katelyn Epperly and Paige Miles, and Paige is through! WOW! I seriously did not see that one coming. I like Paige, but she stunk up the joint majorly on Tuesday night.
Katelyn sings her way off, and I totally disagree that she is the one that should be going home.
8:05 p.m. – Seriously, I try to block out these horrible group sing-alongs. Or should I call them the group lip-synch alongs.
Tonight, they added a little bit of choreography at the end. Wow.