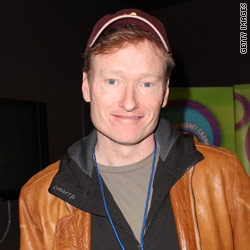 A man can crack jokes on Twitter for only so long.
Conan O'Brien, who has spent his time off from hosting late night shows kicking back in Hawaii and connecting his freckles with a Sharpie, is officially taking his act on the road.
The 32-city "Conan O'Brien presents...The Legally Prohibited from Being Funny on Television" tour will kick off in Eugene, Oregon on April 12, and will end in Atlanta, Georgia on June 14. Tickets are on sale now, and there also seem to be some "Meet and Greet" packages if you want to show O'Brien your love up close and personal.
Although you could go to TeamCoco.com to check out the schedule and purchase tickets, it appears the site has been jammed with traffic, and you'll probably have an easier time purchasing at Ticketmaster.com.
For those of you in NYC and Chicago, O'Brien has even added a second show - but you'll have to sit through him singing all Liza Minnelli songs.
And that's not all.
O'Brien will also flex his comedic muscles at this year's Bonnaroo Music and Arts Festival. According to the press release, O'Brien will be performing at the Comedy Theater as well as doing a little MC'ing on Friday and Saturday.
Other comedians performing at Bonnaroo will be Margaret Cho, Aziz Ansari, Greg Giraldo, Bo Burnham, Doug Benson, Nick Kroll, Paul Scheer, Rob Huebel, John Roberts and Jeff Ross. Tickets to Bonnaroo are on sale now at Bonnaroo.com.