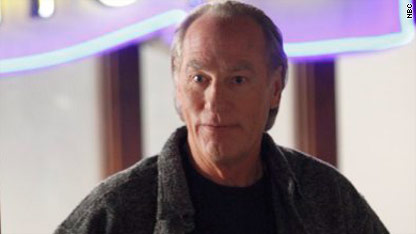 The episode opens with Adam waking up to a noisy possum, and chasing the thing with a tennis racket. Maybe it's supposed to be a metaphor for his problems, maybe it's just supposed to show some of the crazy things people have to deal with. Don't know, moving on…
Crosby tries to get to know his son over a stack of pancakes. He's very cute and really calm considering his ex sprung the kid on him. She wants him to develop a relationship with their son. Perhaps she should have thought about that, say, five years ago, when she had the kid.
Julia is going through the time-honored tradition of trying to bond with your kid in the car rider drop-off line at school, while hoping to get to work on time. While she's waiting, one of the other mothers cuts her off in line, then proceeds to chat and otherwise take her time, as Julia steams about trying to get to a meeting.
She gets home to find the line-cutting mom in her kitchen with her husband making cookies. And she's nicknamed him 'Joelski.' And she hugs and kisses him. And makes a dig about how Sydney never gets to see her mom. And I don't like her. Hands and nicknames off other people's husbands! Trouble of all kinds is coming with that one, starting with Julia making a comment about the woman not working at a school fundraiser. On mic. Let the mommy wars begin.
Adam and Christina visit another couple whose son has been diagnosed with Asperger's, seeking some advice about their son. They look terrified. I can't tell what they're more frightened of, their son being autistic, or the prospect of turning into that couple.
They need to spread some of the worry to their teenage daughter Haddy. She's clearly on the verge of a serious rebellion because they're paying so much attention to Max and his problems.
Best line of the show, Adam to Crosby: "Hey jackass, you have a son, okay? You need to man-up and take care of your responsibilities."
Adam is going to have to figure out how to handle his own responsibilities. H and Christina get the official diagnosis, and he's having problems even listening to what the doctor was saying. By the end of the hour, he seems to be coming around to coping with the diagnosis.
Sarah and her kids don't seem to be having much luck with anything, despite the big move looking for a new start. Sarah can't find a job. Amber hasn't been in school a day before the principal tells her she has to do her sophomore year over again, because her transcripts don't look good. Drew didn't have much to do, aside from trying to stop his mom and sister from fighting. I hope things look up for them soon. One of them always seems to be on the verge of tears.
The adult Braverman kids seem to be good for each other. They have their little fights, but they're all still speaking. Good thing - looks like they're going to need all the help they can get.