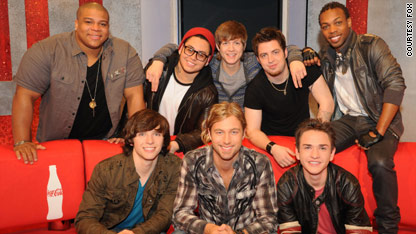 testing captions
9:56 p.m.– "This Woman's Work." Another one of my jams. Maxwell. Another one of my favorites.
"Big Mike" Lynche showed some hubris singing that song, and his performance came across a little cocky to me. Not that he can't sing. He can definitely sing, but he was all over that stage like "Feel me. Love me." Plus, I like cocky sometimes.
And before you start blowing up the comments, I know Kate Bush originally sang the song. Kara tried pulling a Paula by crying over it. That was some utter foolishness right there!
9:48 p.m. – When he first started singing, I thought Todrick Hall was pulling an Adam Lambert. I swear that jacket looked like the Kmart version of Adam's finale outfit when he performed with KISS last season.
Todrick's "Somebody To Love" seemed like such an odd choice to me. Queen? Really? But I couldn't help liking it, and I am almost mad at myself for that. There was a disconnect that makes me want to not like it.
I hate when Simon says someone is too Broadway as if that is a diss.
9:39 p.m. – Oh Aaron Kelly. I know fans have high hopes for you to be the next David Archuleta, but honey, I don't think you are quite there yet.
His "Already There" started out so messed up that I would have changed the channel were it not for my blogging duties. He picked it up toward the end, but he definitely is no Arch at this point. Perhaps he'll grow a bit more? He's so earnest and sweet.
I'm glad that Simon cut Kara to the quick. You don't have to be a middle-aged dude to sing the song. It's telling a story, like Aaron said. Good for him wanting to be a narrator!
9:36 p.m.– Casey James really is a cutie, and I think he should just go ahead and cut that hair.
The whole time he was performing "You'll Think of Me," I thought it was the most un-country version of that Keith Urban song I have heard. It was borderline dull for me, but the kid can sing. No doubt.
9:27 p.m. – I see Andrew Garcia got our memo.
His "Genie in a Bottle" was the Andrew we fell in love with - that artist who can take a song and make you say "No, he didn't just do that!"
Ever since Kris Allen ripped it on"Heartless," I've been loving contestants who can take a popular song and reconstructed it.
The judges didn't love him, but seriously I stopped listening to them awhile ago. BOO judges and welcome back Andrew!
9:18 p.m. – I am praying  for Tim Urban. I mean, come on, seriously this guy is the next "American Idol?"
His version of Jeff Buckley's "Hallelujah" was only great if you compare it to the hot mess he has offered up so far. Simon saying this was his strongest performance so far is really not saying much.
And Ellen running up to hug him was just too, too much.
9:12 p.m. – Oh no you didn't Alex Lambert!
I love "Trouble," and that song needs some grown-man growl in it,  not little boy squeak. It wasn't horrible, but it wasn't fantastic either. Worry, worry, worry, worry, worry. Worry just won't leave me alone this "Idol" season.

9:04 p.m. – Lee Dewyze is growing on me.
I liked his version of "Fireflies." Ellen says his pitch problems don't matter cause people have crushes on him. You still have to be able to sing well E.
Lee is starting to feel like a real artist and I like that he said he's trying to focus on the critiques in an attempt to grow. That's what we like to hear.