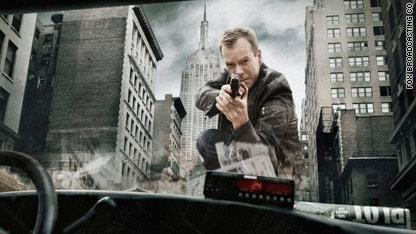 testing captions
24: Day 8, 2 am – 3am.
Welcome back Bauerites: Let's get right to it. The day continues, and the latest hour of "24" is in the books.
I've been hopeful for the momentum to continue onward and upward. No more setbacks. No more costly deductions of "cool points" with dumb subplots. Well Bauerites, the latest episode gave us a bumpy, dramatic ride as Jack and the CTU team are officially rolling. Each remaining episode of "24" is now all set to thrill us right through until the end of the season. Mark it down.
As I recall, in seasons past, there have been the same types of highs and lows we're seeing this season. There have been some quirks, extremely hate-able characters, and irritating storylines here and there. This season is no different. The writers have had their moments, and the legions of Bauerites on this blog have not hesitated to give them the business. Collectively, we grew antsy and impatient, but the last three episodes have renewed my optimism.
How do I know? How am I so certain?
By my count, I tallied three different "Hell yeah, Jack!" moments in last night's show as I yelled back at the TV (don't judge). Three is a pretty high number, and Jack's promise to "personally escort Marcos' mom to the blast site to expose her to the radiation" is my favorite brand of harsh threat that tastes great as I'm watching. Say it with me people, "Hell yeah Jack!"
Meanwhile, while we're checking the stats, it also took about seven minutes from the start of the show for Hastings to earn even MORE of my respect! His sermon to Dana and Cole upon their return to CTU didn't necessarily feature fire and brimstone, but I actually believed he was pissed, and the look on his face when he saw them entering the building was priceless. Hastings has been chock full of "man up" for almost a full three hours now, and I'm also granting him a few bonus points for ordering Dana to take orders from Chloe. You da' man!
Elsewhere, President Hassan, his daughter and estranged wife are certainly a gleeful bunch. Is it just me, or is his storyline a ray of sunshine that beams down directly to the furthest depths of hell? It's official sir: you are having a bad day, and you have every right to be suspicious of any and every one. Arrest them all, and let them explain themselves behind bars. At least that way, they can't try to kill you, take calls on their cell phones from other people they order to kill you, attempt to overthrow your regime, or kidnap your daughter. All bases are covered.
Overall, I thought the show was steady and enjoyable. Another sign of good things to come was a downright dandy preview of next week's episode. The "plot thickening" is an understatement from what I saw, and I'm already psyched. Yes, that's a prediction, and I'm making it. We shall not be disappointed.
By the way Bauerites, if you can't get enough of "24" and "going Bauer" around your home or office like I have recently, be sure to check out the "2 guys talking 24" podcast each week. These guys provide great insight, hilarious commentary and invited me on recently. It was big fun, and thanks a lot to the 2 guys. They're available here and on iTunes.
Got it? Copy that.
Loved, kinda liked, or hated this week's show? Let us know!