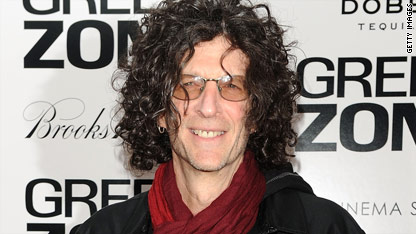 While recapping the Academy Awards on his Sirius satellite radio show Monday, Howard Stern said some controversial words about best actress nominee Gabourey Sidibe.
Stern, focused on the part of Sunday's show when the camera cut to the five actresses up for the Oscar, including Sidibe, whom he referred to as "the most enormous, fat black chick I've ever seen."
"You feel bad because everyone pretends that she's part of show business and she's never going to be in another movie," Stern added. "What movie is she going to be in? 'Blind Side 2,' she could be the football player."
Howard accused Oprah Winfrey, who introduced Sidibe at the Oscars when the best actress nominees were announced, of lying to Sidibe. "When we look at you," Winfrey told the 26-year-old from the Oscars stage, "we see a true, American Cinderella who's on the threshold of a brilliant new career."
Stern disagreed. "She told an enormous woman the size of a planet that she's going to have a career," he said during his broadcast. "Oprah should've said, 'you need to get help, we don't want to lose you.' "
For Stern, Sidibe's size is not just a problem for her career, but her health as well.
"You just want to say to her, listen, honey, now that you've got a little money in the bank go get yourself thin, because you're going to die in three years," he said.
A recording of the show has been posted on YouTube, and reactions have ranged from disgust to agreement.
One YouTube user commented that Stern was only saying what everyone else is thinking, while another found Stern's remarks, regardless of their validity, to be unnecessary. Another wrote, "It's not like what he's saying is totally untrue, but he's so rude and mean about it." A Gone Hollywood blogger said that while he isn't going to pretend that Sidibe won't have a hard time in Hollywood because of her size, it looks like Stern is picking on an easy target.