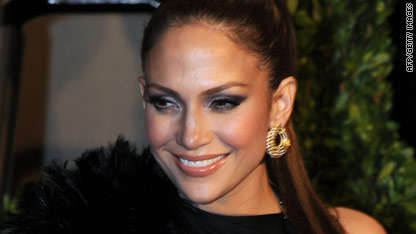 testing captions
The history of stunt-casting on "How I Met Your Mother" is a mixed one - with Britney Spears delivering a bad performance in one of the series' best episodes (and a better performance in a later episode), Enrique Iglesias' pretty memorable turn (as opposed to Mandy Moore's), and Carrie Underwood upstaged by a teacup pig just last week.
On Monday night, we had Jennifer Lopez as the author of a book for single women, not unlike "The Rules," who refuses to be Barney's one-night stand... or even 16-night stand. This time, the guest shot worked: it moved the plot forward without distracting from it. At the end of the day, this show is about Ted, Robin, Marshall, Lily and Barney (and not really, by the way, about how Ted me the mother). One big flaw this season was how quickly Robin and Barney's relationship ended and was forgotten. Well, now, thankfully, this episode addressed that, when Robin, using J. Lo's author character Anita to get her revenge on Barney, once again relapsed into her "mourning period" - which, of course, involved going to the shooting range.
I really liked that they went back and revisited some moments from this season, a few of which originally came across as odd, and showed how Robin was really having trouble getting over Barney. Her breaking point was Barney's "super-date" with Anita, an idea concocted by Ted, in a delightful musical sequence every bit as good as the one in the 100th episode.
Meanwhile, Robin finally planned to go out with her co-anchor Don, thanks to no small amount of prodding by Marshall - he even accepted the date posing as Robin.
Now, no one really wants to see Barney grow and become a "better person" completely. But at the same time, he can't be completely heartless. Once the gang pointed out to Barney how much of a jackass he had been to Robin, even knocking Barney's Stormtrooper head off of its body in the process, he made it up to her in the most selfless way possible, by letting her go on a "super-date" with Don. It was the kind of moment that "HIMYM" does so well - sweet without being schmaltzy.
How do you think J. Lo did? Did you like how they wrapped up the aftermath of Robin and Barney? Do you find yourself hearing "Bang, Bang, Bangity-Bang" running on a loop in your head? Share your thoughts on video or in the comments below.