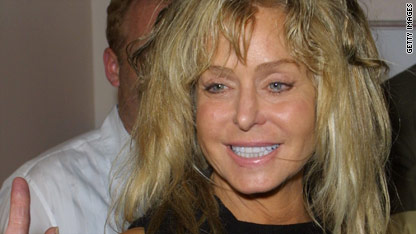 testing captions
The "In Memoriam" section has become an awards show staple: tasteful music played under images of the past year's notable dearly departed in that particular industry.
There will always be disagreements over the length of the piece, who rated highest on the "death-meter" with the most applause, the music (I'm a huge James Taylor fan, but I heard from people who thought his rendition of "In My Life" was inappropriate or otherwise off) ... and most of all, who is included and who is left out.
This year, the last strains of James' guitar were still lingering and the Oscar telecast had barely gone to commercial when I started hearing from friends: "Where was Farrah Fawcett?"
I replayed mental tape, and sure enough, while many of the other major celebs who passed away last year - many during the "Summer of Death" – made the Oscar show's cut, Fawcett was nowhere to be seen.  Natasha Richardson, Dom DeLuise, David Carradine, Karl Malden, Patrick Swayze (yes, he was there right at the beginning of the montage), and Brittany Murphy, but no sign of Farrah's signature blonde mane and dazzling smile.
The Academy's reaction to the avalanche of criticism that followed was predictable, and reasonable: they can't include everybody.
That said, presumably there are standards to determine who makes the cut and who doesn't.  Obviously, fame is one of those criteria.  On the other hand, the Oscar death roll always includes executives, writers, directors, and other less-famous folk who had significant film industry roles, so obviously there's a balance to be struck.  For instance, Bea Arthur did almost exclusively television, with just a few movie credits in her six-decade career, so it made sense that the Emmys saluted her last fall, but the Oscars did not.
That brings us to (deep breath ... bracing for hate mail from his fans ...) Michael Jackson.  His death last June, just a few hours after Fawcett's, overshadowed hers in the news, and now it seems it's happened again.  Yes, Farrah was known largely for "Charlie's Angels" and such TV movies as "The Burning Bed," but she was in plenty of movies, including "Dr. T. and the Women," "The Apostle," "Man of the House," "See You In The Morning," "Extremities," "The Cannonball Run," "Saturn 3" and "Logan's Run."  Okay, maybe some of those films were better candidates for the Razzies than the Oscars, but let's consider Jackson's big-screen credits: "The Wiz," "This Is It," and... um... that "Men in Black II" cameo.  Suddenly, Farrah's list looks a lot better.
Film critic Roger Ebert tweeted that he felt the snub was "a major fail" by the Academy and that they have "a whole lot of splaining to do."
There's an old Latin phrase (I know, I know: there aren't many new Latin phrases): de mortuis nil nisi bonum - speak no ill of the dead.  However, they didn't say anything about arguing over the dead.  Have at it: what did you think of Michael's inclusion, Farrah's exclusion, and the entire concept?