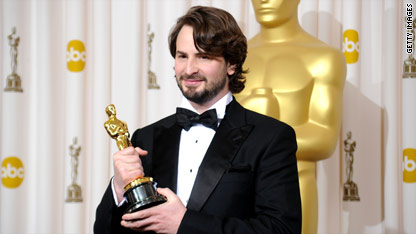 testing captions
I knew Mark Boal before 300 million people met him last night. I'm not trying to brag here, but I'd like to point out that 16 days after I interviewed Mark Boal, he won two Oscars for writing and producing "The Hurt Locker," his low-budget, character-driven movie about a bomb disposal team in Iraq.
He said all the right things that a candidate for an Oscar says.
"It's pretty great. It's pretty thrilling I would have to say. It's the highest honor you can get in the film business. So to be recognized by your peers like that, it's a really wonderful thing," he told me.
Now, until the night before my interview, I'd never been to Hollywood. What I knew about Hollywood, I learned from the movies, TV and newspapers.
Here's the reality. Mark Boal did not travel with an entourage. He arrived at the offices of Summit Entertainment alone, greeted us warmly and while we finished setting things up, he walked off to find himself a cup of coffee. I thought Hollywood movers and shakers had people for these kinds of things. Maybe now he will.
Most of our discussion revolved around the issue of the U.S. Department of Defense assisting in making Hollywood movies. The interview was for a Barbara Starr report on when the DoD chooses to help and when it turns down a moviemaker's request. The DoD said no to "The Hurt Locker."
Boal readily admits that "The Hurt Locker" is not true story, and believes that might be a reason the DoD turned the film down.
"It's a fictional movie. It's not a documentary or a training video, but I think it captures the spirit of the experience and hopefully gives audience members a flavor of the tension, the anxiety, the challenges," Boal told me.
"The Hurt Locker's fictional elements may be why the DoD chose not to offer any support for the movie. The humvees and other equipment you see in the film come largely from the Jordanian army.
"We had some initial exploratory conversations with the Pentagon about what they call support agreement for a motion picture and so it was something that we did explore with them but ultimately it did not work out," Boal said. "Well, we have creative differences primarily about the way the script was and so we parted ways on these grounds."
There are several scenes that may have caused the DoD to not support the film.  But whatever the reason, lack of official DoD support didn't hurt "The Hurt Locker" at the Oscars and even Secretary of Defense Robert Gates has been quoted calling it "very compelling."
Boal hopes it has a place in Hollywood history.
"Growing up I learned a lot Vietnam, for example, from the great war movies of that era and I learned a lot about World War II from 'Saving Private Ryan' and 'Schindler's List' and so forth. So hopefully 'The Hurt Locker' can serve that same kind of cultural function for other people down the road," he told me.