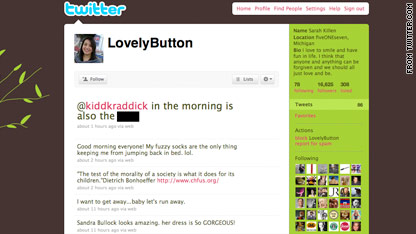 In between eating spectacular McDonald's fries in Culver City and applying for jobs at office suppliers and home improvement stores, former "Tonight Show" host Conan O'Brien has been busy turning an everyday Twitter user into an overnight celebrity.
Sarah Killen, 19, was enjoying peanut butter, gummy candy and her general button-y loveliness in relative Twitter obscurity until O'Brien decided that she would be the first person he would follow on March 5. Within 24 hours, Killen, also known as @LovelyButton, was an Internet star. At the time of this posting, her followers had swelled to more than 16,000, and the girl just started tweeting in late February.
The recently engaged Michigan resident told MTV News that O'Brien asked for permission to follow her – and tweet about it to all 580,000 plus of his followers – over MySpace.
"I didn't take it seriously until I saw my name on his Twitter," Killen said in the Skype interview, "and then I was like, 'Oh, my god.'"
Being O'Brien's one and only on Twitter has its perks: Killen's gotten wedding planning advice as well as a free MacBook and Web cam from a kindly fellow who helped her out when her old Web cam was on the fritz.
And there's no need for jealousy: @ConansMonkey is looking for someone to follow on Twitter too; that's gotta be worth at least some free bananas. As Killen pointed out in her Twitter feed, sometimes randomness pays off.