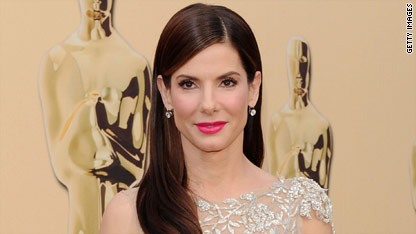 If Sandra Bullock wins for best actress, she'll have to wing the speech.
"I prepared what I had to do when I present the best cinematography," Bullock said, but nothing more.
While she's clearly the favorite to win the award, Bullock isn't letting it go to her head. "There's always a favorite, and it's never worked out that way," she said.
Bullock attributes her success with her "Blind Side" role to "opportunity and timing," she said. "I was ready. Preparing for this was an uphill battle, but I was given time to prepare." In typical Bullock fashion, she joked, "Can you imagine if it had been horrible?"
If it were, perhaps it would've earned her another Razzie. Bullock took home the prize for worst actress for her performance in "All About Steve."
"I took home that award, that award is mine," Bullock said. "But I'll give it back next year when they say, 'Oh we made it a mistake,' and I have a feeling they will."
Bullock is going up against Meryl Streep for the Oscar, who is also nominated for best actress for her portrayal of Julia Child in "Julie & Julia." But like best supporting actress nominees Mo'Nique and Anna Kendrick said earlier on the red carpet, there's no sense of competition between the women.
"People like to pit people up against each other," Bullock said, "But I love that [Streep]. She's extraordinary."