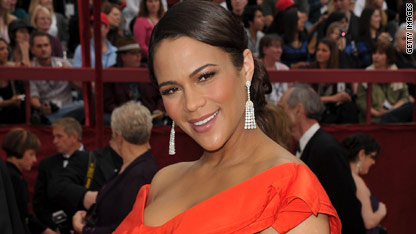 testing captions
Actress Paula Patton was shining on the Academy Award's red carpet almost as much as Oscar himself.
The beautiful co-star of the film "Precious" was stunning in an off-the-shoulder Carolina Herrera dress, which complimented her baby bump. Her husband, singer Robin Thicke, smiled proudly at his wife, who said she is due to give birth to their first child, a son, on May 23.
Patton had nothing but kind words for her co-stars in the critically acclaimed film and told "Showbiz Tonight's" Brooke Anderson that she was especially impressed by the film's star, Gabourey Sidibe.
"I think Gabby is like a prodigy," Patton said. "She changed the way she looks, the way she walks, the way she talks. She is amazing."
And Patton said she loved how real life appeared to be mirroring the movie, which told the story of a morbidly obese teen desperate to break free from her hard life .
"In the film, you see [Gabby's character] having fantasies of walking the red carpet and here she is doing it," Patton said.