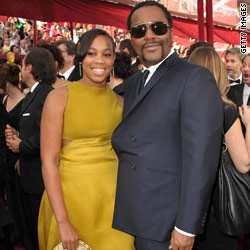 Celebrated filmmaker Lee Daniels couldn't hide his excitement as he walked the red carpet with his daughter, who was dressed in a Chado Ralph Rucci gown on advisement from Vogue editor-at-large Andre Leon Talley.
"I'm humbled, because I'm in the moment," Daniels told CNN. "[I'm] so humbled by it, because so many other people are waiting in the background to do what I did."
Like best supporting actress nominee Mo'Nique, who has won raves for her role in "Precious," Daniels also considers the tale, based on the novel "Push" by Sapphire, to be one that can transform lives.
And while Daniels directed the film, he said it even proved to be a balm that helped him deal with trauma.
"I wanted to heal," Daniels said. "I wanted to not have nightmares anymore, think of my friends who passed away in peace and let that go, and 'Precious' has done that for me."