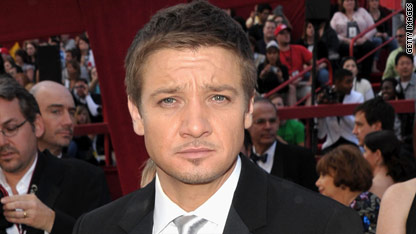 "The Hurt Locker's" Jeremy Renner has been a working actor for years, but this is his first time getting a nod for an Academy Award.
"It's an electric feeling, I tell you," Renner told CNN. "It makes it very sweet. I've been doing it for awhile, and at 39, it feels really awesome."
"The Hurt Locker" has received its fair share of complaints about the story, but, Renner said, "everybody's got an opinion. It's cinema. We did our due diligence to make it as real as possible. We told a story; that's what our job was."
Despite the lawsuit that's been brought against the film, with one soldier claiming that the movie is actually based on him, Renner said the military has actually latched on to the film. "It's been a wonderful compliment," he said.
Up next for Renner? He's hoping for a nap and a scotch.  "Job-wise, I don't know yet, we'll figure it out. I don't answer my phone right now, I don't have time. I've got my mom in here [at the Oscars] and she's enough for me right now."
Renner is also keeping his fingers crossed that "Locker" director Kathryn Bigelow will make history as the first female director to take home the Oscar. "I'm praying that Kathryn Bigelow will take it," Renner said. "You can take any limb!"