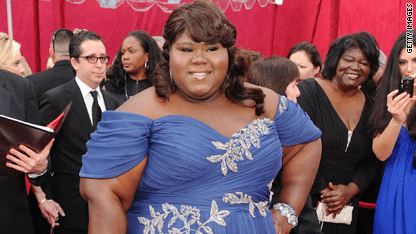 testing captions
Gabourey Sidibe said she knew from the beginning that the navy gown she's sporting would be the dress she wore down the red carpet.
The star of "Precious" said she considers herself  "a normal person in a fantasy world" at her Oscar debut.
"I don't believe my life," she added.
Sidibe said she hopes to work on a comedy, possibly a movie with Tina Fey and Amy Poehler.
The best actress nominee dashed down the red carpet, attempting to speak with the many journalists who waved her over.
She told "Showbiz Tonight's" Brooke Anderson that she felt it was fate to play the role of an abused, overweight teen mother.
"I think it was part of my destiny," Sidibe said of the audition that landed her the role. "I never decided to go, I just went."
As for all of the speculation she would be bringing pop singer Justin Timberlake to the awards show, Sidibe said she was just joking when she mentioned wanting him to be her date.
"Justin Timberlake  is so nice," she said as her mother, who accompanied her to the awards, looked on smiling. "He actually sent me flowers."