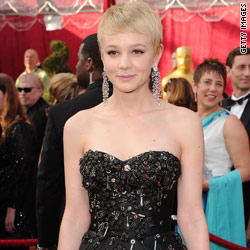 Best actress nominee Carey Mulligan is already looking for her next gig.
The 24-year-old is the youngest nominee at the 82nd annual Academy Awards, and she considers her role in  "An Education" to be the one that pulled her out of her professional rut.
"I've always been in and out of things and played very small parts," Mulligan said, but with "Education," "I was amongst giants."
Like many on the red carpet tonight, Mulligan doesn't know what will happen next in her career.
She does know that she would love to have the chance to work with Oscar-nominated directors Quentin Tarantino and Kathryn Bigelow. She said she will be using her time on the red carpet to network a bit.
"I haven't got a job yet," Mulligan said, "so I'm here looking for a job."