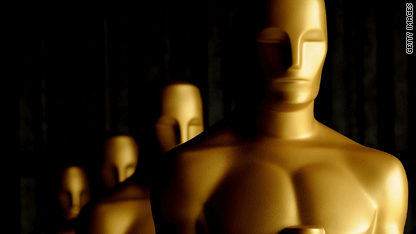 We'll be keeping track of the wins, the acceptance speeches, the tears and the Alec Baldwin/Steve Martin repartee. Check back here for more throughout the night!
12:01 a.m.: It's a wrap folks. With the clock ticking, "The Hurt Locker" takes it with zero fanfare. Kathryn Bigelow, however, is double-fisting her Oscars. The producers give an appropriate shout out to the one producer banned from the ceremony, Nicolas Chartier, who you know is at home partying away.
11:55 p.m.: "The time has come ..." Kathryn Bigelow is the first female to win the best director Oscar. The award is dedicated to the men and women in the military, wishing them safe travels back.
11:52 p.m.: Great acceptance speech, including the shout out to Meryl Streep for being such a good kisser. She even made her husband, Jesse James, cry.
11:48 p.m.: Sandra Bullock is both the best and the worst actress in cinema all in one weekend. She got the Razzie last night for "All About Steve" last night - history has been made!
11:46 p.m.: Take a second to let that sink in. Gabourey Sidibe went from unknown actress to competing against Meryl Streep for best actress. Talk about a fairy tale rise, indeed. It must've hit Gabby too - the tears were flowing as soon as Oprah Winfrey started giving her "Gabby's so awesome" speech.
11:43 p.m.: Sandra Bullock admitted that she didn't prepare an acceptance speech for best actress, despite being the clear favorite for the award. What are the odds that none of the other best actress nominees did either?
11:38 p.m.: Jeff Bridges wins best actor to the surprise of absolutely no one.
11:25 p.m.: For the best actor nominees, we get not just two presenters, but one for each and every nominee. Michelle Pfeiffer waxes nostalgic about working with "Crazy Heart's" Jeff Bridges; Vera Farmiga informs us what it's like to be Clooney's love interest (intimidating, but you already knew that); Julianne Moore uses plenty of positive adjectives to talk about Colin Firth; Tim Robbins "remembers when" for Morgan Freeman and Colin Farrell gets a little chocked up for Jeremy Renner. Yeesh. A little indulgent, no?
11:18 p.m.: Is a surprise in store for best picture? It's possible - Argentinian film "The Secret in Their Eyes" took best foreign language, and it seems that no one saw that one coming.
11:10 p.m.: "The Hurt Locker" is doing pretty well tonight, taking four of the nine awards it's nominated for. "Avatar," however, is right behind it with three Oscars. We're getting down to the good stuff, guys - best actor and best actress are coming up!
11:05 p.m.: Tyler Perry, looking dapper as always, gives a little laugh that they just said his name at the Oscars. He jokes, "I better enjoy it because it'll probably never happen again!" Nonsense, Perry, nonsense.
10:51 p.m.: The dance segment was...interesting. And a touch long. If MTV's "America's Best Dance Crew" decided to do an interpretive dance challenge, perhaps that's what it would look like. Best dance routine award for Oscars 2011, anyone?
10:44 p.m.: CNN.com isn't the only crew chatting about the Oscars. Check out Jack Gray's Academy Awards live blog for Anderson Cooper's AC360
10:40 p.m.: James Taylor goes acoustic for a tribute to those in the movie biz who have passed on. Actress Brittany Murphy is among those remembered, which included director Howard Zieff, actors David Carradine and Ron Silver, and Variety journalist Army Archerd. Looks like they may have missed Farrah Fawcett though.
10:33 p.m.: "The Hurt Locker" has picked up a few awards, as has "Precious," while "Avatar" has so far taken the award for Art Direction. But with 10 movies up for best picture, it still doesn't feel safe to call one. How are those Oscar pools coming? Is everyone winning their bets?
10:23 p.m.: When you have an iconic voice as Morgan Freeman does, you don't get to just simply be a nominee and hang out in the audience. You also have to narrate the best sound editing and mixing clip reel.
10:21 p.m.: Kristen Stewart and Taylor Lautner are the presenters for a tribute to horror, which gives us a montage of some of the best, including "The Shining," "Psycho," "Saw" and ... wait a minute ... "New Moon"? Really?
10:14 p.m.: So far, not a ton of surprises with the Academy's selections. Sarah Jessica Parker and Tom Ford just presented costume designer Sandy Powell with the best costume design award for her work on "The Young Victoria." Powell- considered one of the best in the industry – has won the award two times before, as she pointed out during her acceptance speech.
9:59 p.m.: Mo'Nique takes the award for best supporting actress for "Precious" (surprise, surprise). She says, "I'd like to thank the Academy for showing that it can be about performance and not politics. I'd like to thank Hattie McDaniel for for enduring all that she had to, so that I would not have to," before going on to thank Tyler Perry and her BET and "Precious" families.
To wrap up her speech, Mo'Nique also thanks her husband for "showing that sometimes you have to forego doing what's popular for doing what's right."
9:55 p.m. – Wow Lauren Bacall looks great! She and Roger Corman get a standing ovation after some clips of the Governors Awards are shown.
9:50 p.m.: The nominees for best adapted screenplay are being presented in a pretty cool way. A scene from the film splashes across the screen as presenter Rachel McAdams reads from the script. "Precious" takes it!
9:38 p.m.: Ben Stiller comes out as his "Avatar" alter ego to present the award for best makeup. The irony, as Stiller points out, is that "Avatar" isn't even nominated. Dude even has the tail, which he's just dying to plug into something.
9:37 p.m.: Saldana and Mulligan carried us through all of the short films, including best documentary short and best live action short.
9:29 p.m.: "Avatar" star Zoe Saldana and best actress nominee Carey Mulligan look almost like dress twins as they introduce the nominees for the best animated short film. Clearly floor length gowns that show a little leg in front are in this season.
9:24 p.m.: That John Hughes tribute was an emotional one. Jon Cryer, Anthony Michael Hall, Ringwald, Broderick, Macaulay Culkin, Judd Nelson, and Ally Sheedy took the stage to pay their respects. Hughes' family was in the audience and were visibly moved.
9:17 p.m.: Good to see Molly Ringwald and Matthew Broderick together paying tribute to the late director John Hughes.
9:12 p.m.: Tina Fey and Robert Downey Jr. are the presenters for best original screenplay, and the audience is eating it up.
9:05 p.m.: A clip from "District 9" gets played, as it's one of the nominees for best picture - proof that great movies can be made on tiny budgets.
9 p.m.: After a cute bit with the "stars" of the nominees talking about being nominated, "Up" becomes the third straight Pixar movie (after "Wall-E" and "Ratatouille") to win the prize.  Pete Docter says "never did I think making a flip book out of my third grade math book would lead to this."  Lauds his co-workers, Disney and Pixar for "believing in this oddball film," his family.  Very nice.
8:49 p.m.: Christoph Waltz takes the best supporting actor award, and he said director Quentin Tarantino, with his unorthodox methods of direction, brought the movie home with flying colors. He added that he can't ever thank him enough, but he can start right now. On the red carpet, Tarantino said that Waltz was the reason "Inglourious Basterds" was made.
8:40 p.m.: George Clooney looked terrified by what Martin and Baldwin might say about him. Instead, they announced his name and said nothing else about him. Too funny!
8:37p.m.: The duo is having a good time poking fun at "Julie and Julia" best actress nominee Meryl Streep. Alec: When Steve and I met her at the start of "It's Complicated," we both thought the same thing: what a memorable threesome.
8:34 p.m.: Steve: Everyone wants an Oscar, but they're very hard to get. Alec: No matter what, they nominate Meryl Streep.
8:30 p.m.: We're live with this year's nominees for the best actors and actresses in a leading role. They start with critic favorites Jeff Bridges and Sandra Bullock before panning to the rest. Is that a hint of who will take home the statues tonight?