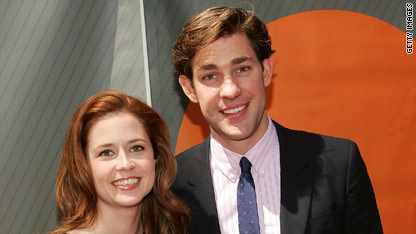 'The Office's' Jenna Fischer and John Krasinski
The arrival of Cecelia Marie Halpert made for an uproarious one hour episode of "The Office" Thursday night. If nothing else, this show comes through for the big episodes (see the Super Bowl and the wedding). This season has been all over the map, but as usual, it really clicks when Jim and Pam are the focus.
As Jim mentioned during this episode, he hates to be frazzled, but seeing this couple lose it (like when Pam discovered Michael was dating her mother) is rare and hilarious when it happens. This took place quite a few times, firstly when Pam refused to go to the hospital and wanted to be distracted from her contractions - Michael Scott to the rescue! Andy's performance of the "Evolution of Dance" (no music, please) and Erin's ability to remember every Triple Crown winner were highlights of Distraction Fest 2010.
Soon, and despite Pam's protests, it was time to head to the hospital, and of course, Michael wanted to be a part of the whole experience, driving them there, and later showing up with balloons in the delivery room (his look after leaving the room was priceless).
Frazzled Jim and Pam soon returned, though, with their worries over nursing and getting as much time in the hospital as possible. However, as hysterical as it was to have a sleepy Pam accidentally feed and care for their roommate's baby by mistake, it was still a fairly predictable joke that went on a little too long.
Meanwhile, Dwight was in rare form. After witnessing how a baby could improve one's sales, he entered into a contract with Angela to have a baby together. It's about time these two got back together.
One could see the mistake of sending Dwight to retrieve Pam's iPod coming a mile away. After discovering mold, Dwight invited himself to spend the night and tear the house apart, of course. His inevitable run-in with Pam's friend Isabel sparks things back up between them, almost certain to complicate things with Angela.
Back at Dunder-Mifflin, matchmaker Michael had another success with Erin and Andy (despite a brief, amusing misfire with Erin and Kevin). What could have been an excuse to bring back the old Pam and Jim will-they-or-won't-they magic is something quite different with these two and their burgeoning relationship is another bright spot for this season.
How do you think this episode measured up? Share your thoughts on video, or in the comments below.