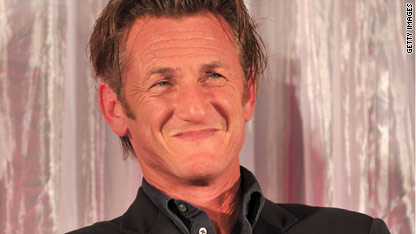 Actor Sean Penn, most recently embroiled in a paparazzi scandal, had a few choice words for those who believe his service in Haiti didn't come from a pure willingness to help others.
During an interview on CBS' "Sunday Morning," CBS News chief foreign affairs correspondent Lara Logan asked Penn if it made him angry when people talked about his work in Haiti in a cynical way.
The Oscar winner responded that he hadn't "had an awful lot of time to pay attention" to the cynics, before adding, "you know, do I hope that those people die screaming of rectal cancer? Yeah, you know, but I'm not going to spend a lot of energy in it."
Penn was on the ground in Haiti shortly after the earthquake, delivering aid and pitching in with relief efforts. He also established his own Haitian relief organization with a U.S. businesswoman, Diana Jenkins, and has donated more than $1 million in aid.
Penn has also included his 16-year-old son, Hopper Jack, and 18-year-old daughter, Dylan, in his relief efforts.
"I think that they've had the experience, as I have, that the first person served by service is the server," Penn said of his decision to take his kids with him. "There's nobody in the world that isn't looking for a kind of purpose in life, and tangible purpose is the most immediately recognizable."