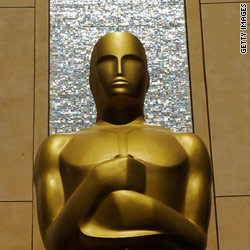 Not everyone can take home a shiny Oscar statuette, so the Academy offers gift bags filled with the awesome as well as the bizarre.
Let's start with the good gifts. Since those who lose out on Oscar night may feel the need to get a way from it all, there's a $45,000 trip voucher for a South African safari, complete with personal chef, a $14,500 trip voucher for a getaway to Monaco, plus a $7,000 trip voucher to a posh resort in Connecticut.
There's also deeli.com gift cards, an offer for an iFLY indoor flying session as well as a Tiffany cat collar and designer dog toys. And, because this is Hollywood, Oscar nominees will get gourmet chocolates that can be burned off with the gift bag's offer for personal training sessions and a week at a fitness boot camp.
Moving on to the strange: To round out the swag, The Academy opted to include a bizarre game called The Pig Board, a year's supply of Altoids Smalls and a "Green Home" Serta mattress.
The cost: about $85,000 a bag.
Read more about Oscar goodies at Fashionista.com.