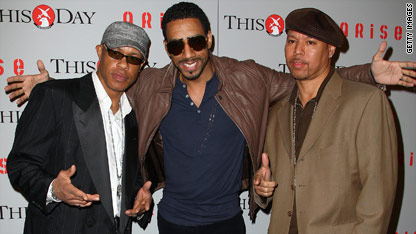 testing captions
Solar, the producer for Guru, spoke with CNN on Friday about the rapper's condition and media reports that Solar is barring the ailing rapper's family from seeing him.
"Guru is recovering and his doctors are guarded, but hopeful for his recovery," Solar said.
He said the rapper has a history of lung problems and asthma and has been guarded about revealing his health issues. Solar, who says he is Guru's best friend in addition to being his producer for the last few years, is currently acting as Guru's spokesperson.
"Guru has entrusted me to be accurate and truthful in relaying information to the media," Solar said.
After news broke on Monday that the co-founder of Gang Starr had fallen into a coma following going into cardiac arrest, fans reached out via the Internet to express their concern.
Guru's nephew, Justin Nicholas-Elam Ruff, posted a video on YouTube in which he accused Solar of withholding information about the rapper from his family and not allowing them to see him.
"Solar has complete control of the flow of information," he said in the video. "I know that Solar has been his right-hand man day in and day out for the last six years, but that does not give him the right to make decisions about whether his family is to see Guru or learn about his status. The fact that he is acting like this lets me know that he does not have Guru's best interests in mind."
In speaking with CNN, Solar said he was confused as to why Ruff would make such accusations given that Ruff's mother, Trish, and other family members have visited with Guru.
"It's very, very baffling to me because his mother [Trish] was at the hospital not even a week ago with Guru's brother and his sister," Solar said. "I speak to Guru's father and his brother daily. This is amazingly untrue and I have no idea what this is about."
Doctors have not given any indication as to when Guru might be released, Solar said, and the rapper is touched by the fan support.
"The outpouring of love from around the world has been tremendous," Solar said. "I'm reading some of the best e-mails, texts and Twitters that come in and he enjoys them. I think that's what has been helping his recovery and what's got him in there fighting."