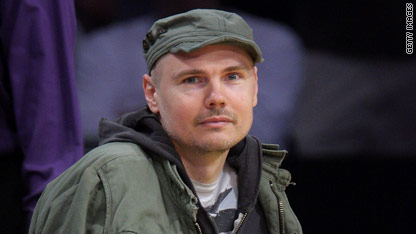 Smashing Pumpkins frontman Billy Corgan didn't attempt suicide over the past decade - but that doesn't mean he didn't consider it.
As he told Rolling Stone magazine for their latest issue, until recently, Corgan's decision-making process on many mornings was choosing between eating breakfast, or killing himself.
What saved him, he said, was his unique sense of spirituality, including an association with a group called Source Family. If that sort of conversation seems personal, it's just the tip of the iceberg – Corgan had a lot to say about the past 10 years, including his father's heroin addiction and where he stands on his critics.
"Do I belong in the conversation about the best artists in the world? My answer is yes, I do," Corgan told Rolling Stone. "I've been too productive for too long, and despite what anybody wants to strip away from me, I am influential."
Pumpkins fans know that Corgan wrapped a 20th-anniversary tour towards the end of 2008, with only he and drummer Jimmy Chamberlin left from the original group after the band's dissolution in 2000.
"Rather than break up the band, what I should have done is chuck James [Iha] out," Corgan said in the interview. "I should have just said to Jimmy [Chamberlin], 'You go to rehab, and we'll continue, and James, get the f*** out of here.' Instead, I fell on my sword for James, for what I thought was a friend."
By 2009, Chamberlin had made an exit from the band as well. Corgan says in the interview that he fired him.
The musician nonetheless remains confident that he has a place in the industry. "All the Pitchforks in the world can try to strip me of every ounce of dignity, but I belong," he said.
Amidst the heaviness, Corgan turned to what appears to be a bright spot in his life: his "love" of singer Jessica Simpson. Corgan chose his words carefully, noting that if he used the dreaded "just friends" label, people would assume that they had been dating.
"It has nothing to do with any of that. Sometimes people just like being around each other, and good things come out of that," he said. "My goal in life is to love whoever I think is worth loving, and I think if people knew her like I knew her, they would love her like I do."