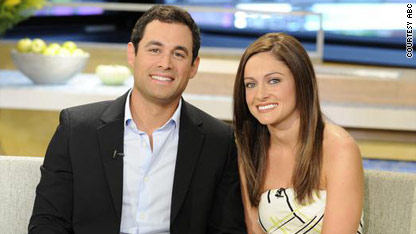 Jason Mesnick is no longer a bachelor, both figuratively and literally.
The former star of ABC's "The Bachelor" - who infamously picked and later dumped Melissa Rycroft in 2009 - married Molly Malaney this past weekend in California.
Malaney, who was the runner-up to Rycroft on the show, agreed to give Mesnick another chance after his about-face, and it appears that second chance has worked.
The wedding will be featured on "The Bachelor: Jason and Molly's Wedding", airing March 8 on ABC.
Earlier today, Jason and Molly took time to speak with reporters, myself included, about the wedding and life after "The Bachelor."
What was the most difficult part of organizing a wedding that will air on national TV?
According to Molly, it was assigning tables for 300 guests.  Jason says Molly did an incredible job getting everything together, adding that she had a phenomenal wedding planner working with her.
You were only the second couple in "Bachelor/Bachelorette" history to walk down the aisle.  Why do you think your relationship succeeded?
Both Jason and Molly said that for their relationship to work in the long run, they needed to get back to living away from the spotlight and resume their normal lives.  For Jason, that now means serving as president of Project Parachute, a non-profit organization that helps single parents by providing childcare scholarships and creating support groups.
Do you think love can be found in the time you are taping the show, or does it take time?
Molly said that while "The Bachelor" brings people together, what happens after the show is crucial to the relationship's future, as you are back in the real world to tackle real issues.
Do you feel that you truly received a "happy ending," given the fallout over Jason's post-show decisions?
The Mesnicks said they wouldn't be together now if they didn't go through what happened post-show, as it brought them so much closer.  Jason notes that he doesn't mind if people are upset with him, but no one should be angry with Molly.
What are your short-term plans after the special airs?
Jason says the two of them will be heading to South Africa later this month on their honeymoon.  In terms of possible siblings for Jason's five-year-old son, Tye, the Mesnicks say they want to take a few years to slow down and get back to a sense of normalcy before expanding their brood.