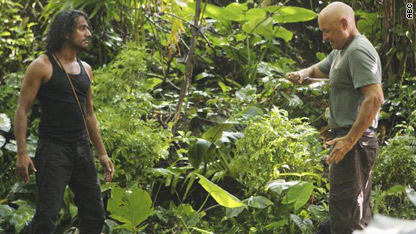 Well, now, that's more like it. The last five minutes of Tuesday night's episode of "Lost" was easily the most exciting so far this season.
We even saw some very interesting developments in the alternate timeline, where Sayid's trip back to Los Angeles, California, was to see his beloved Nadia. But this time, she is married to his brother, a man who owes money to some very dangerous people. Sayid, meanwhile, now works for an oil company.
After Sayid's brother meets with an "accident," his debtors take Sayid to meet the big boss, who just so happens to be Keamy, the Widmore-hired mercenary who killed Ben's daughter, Alex in the "real" timeline. Once Sayid dispatches Keamy and his men - proving that the former torturer can still be a brutal killing machine when motivated - he finds Jin captured in a nearby room. For the first time, I truly can't wait to find out what happens there next.
The plot really thickened on the island where Sayid was a little peeved at Dogen for believing him to be evil and wanting him dead. A death-and-destruction-filled episode just wouldn't be complete without some good, old-fashioned fisticuffs and these two traded a few blows, before a fallen baseball reminded Dogen of something and the fight soon ended.
Claire paid a visit to the Others' temple, sent there by her "friend," the Man in Black/Smoke Monster (I'm assuming Jin is still back at her camp?). She announced that "Smokey" wanted to meet with Dogen outside of the temple. Dogen had better ideas, sending Sayid out to meet him with a dagger, leaving Miles - who just told him about the fact that he really, truly was dead - to hold down the fort.
Sayid had been warned that he would be met by a dead person, and must kill him before he said a word. However, after hearing the familiar smoke monster noises, Sayid was greeted by a talkative "Locke," who instead of dying, was mildly annoyed at the knife in his chest. Like Claire was promised her revenge on the Others, the Man in Black was prepared to offer Sayid the chance to be reunited with Nadia.
This was enough to put Sayid squarely in "Smokey's" corner, warning the Others at the temple that they should join him outside by sundown or face certain death. Meeting up with Dogen once again, we learned that Dogen was approached by Jacob and given the chance to save his son's life after a baseball game but in return, had to come to the island. (Recall Jack meeting fellow father Dogen at an audition in the last episode.) No sooner do we get that glimpse into Dogen's past than Sayid kills him in the same pool where Dogen tried to heal him. Lennon shows up and is savagely killed by Sayid as well. The deed is done, the Man in Black can now come to the temple, and it appears that Sayid has gone to the other side.
Meanwhile, Kate, who has followed Sayid back to the temple, is briefly reunited with Claire, (who creepily sings "Catch a Falling Star" in a pit) and mentions to her the truth about what happened to Aaron. Emilie de Ravin's look after hearing this gives Terry O'Quinn a run for his money in the evil acting sweepstakes (and so far, Naveen Andrews as evil Sayid is showing a lot of potential).
The sun is down, and some of the Others have joined the Man in Black, and some have stayed at the temple. As promised, the Smoke Monster shows up and attacks the temple ferociously, but not before the cavalry shows up in the form of Ben, Ilana, Sun and Lapidus. Miles and Kate are separated, Kate just barely escaping Smokey by jumping into the pit with Claire, and Miles joining up with the rest of them. Ben's attempt to rescue Sayid is short-lived as he realizes that a smiling man with a dripping knife near two dead bodies is not someone you want to deal with - yes, someone actually creeped Ben out.
So, the battle lines are drawn: Sayid, Claire and (a missing) Sawyer are with the Man in Black, and a very perplexed-looking Kate is with them and the surviving Others from the temple. Ilana heads up Team Jacob with Ben, Lapidus, Sun and Miles.
So, where will Jack and Hurley's allegiances lie, especially since both seemed frustrated, if not angry with Jacob last week? And what about Jin (how much longer can they drag out his separation from Sun, anyway)?
Share your thoughts, theories and predictions on video, or in the comments below. In the meantime, see what others had to say about it here and here.