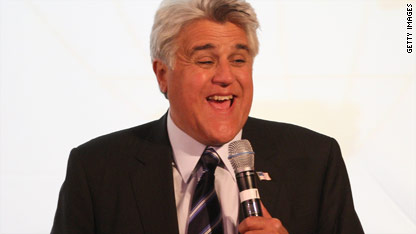 For the second night in a row, the old/new host of "The Tonight Show" has taken the top spot in late-night rankings, albeit with fewer viewers than he had for his first night back on Monday.
According to Nielsen Media Research's fast national ratings, Leno had 5.8 million viewers Tuesday night, while David Letterman held fairly steady in rankings at 3.7 million (on Monday, he had 3.8 million) and ABC's "Nightline" attracted 3.3 million, versus the 4.1 million who watched Monday.
Leno had the same 1.6 rating in the 18-49 demographic that he had on Monday.
"Late Night" host Jimmy Fallon pulled in slightly fewer viewers at 12:35 p.m. than he had on Monday as well, coming with a total of 1.96 million overall, but that was still enough to come in at No. 1 in his time slot over Craig Ferguson's "Late, Late Show" on CBS, which had 1.92 million viewers.