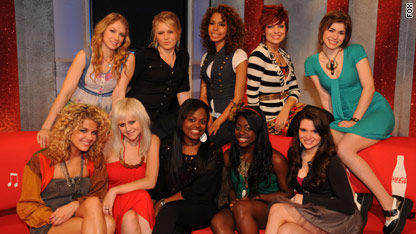 testing captions
How will the women do on "American Idol"?
After an uneven set of performances by the men last night - with the bookends of Mike Lynche and Lee Dewyze standing out and the others ranging from decent to "why are you still on the show, Tim Urban?" - it's time for the ladies to take the stage. (They were supposed to appear Tuesday, but Crystal Bowersox's medical emergency pushed the performances to tonight.)
Let's see how they do. Last week, the ladies were better than the men - but that's not saying much. The men (some of them, anyway) improved this week; we'll see if the women can do the same.
As of late afternoon, reports were that Crystal Bowersox may still not be well enough to perform so we'll have to wait and see how it goes down. Not sure how "Idol" is going to handle this one.
Join CNN tonight and throughout the "American Idol" season as Lisa Respers France blogs live during the performance and result shows.