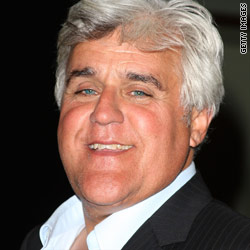 Love him or hate him, people are still watching Jay Leno.
NBC did a special rush job to get Leno's Monday-night ratings from across the nation, instead of going off the usual 25 markets they can cull overnight averages from. In both sets of ratings, however, the results are mighty positive.
Leno's first night back, which featured actor and musician Jamie Foxx as well as Olympic gold medal skier Lindsey Vonn, ranked No. 1 among major networks in his time slot, according to Nielsen Media Research.
Leno had 6.6 million total viewers in what Nielsen calls the "fast national" (that is, preliminary) ratings, in comparison to the 3.8 million who tuned in to David Letterman's "Late Show" and the 4.1 million who were watching "Nightline" on ABC. Leno had a 1.6 rating among adults 18-49, in contrast to David Letterman's rating of 1.1 in the same demographic.
Leno's first night back behind the "Tonight Show" desk had a positive effect for Jimmy Fallon as well. The host of "Late Night" came in at 2.1 million viewers, beating out "Late Late Show" host Craig Ferguson, who had 1.8 million viewers.