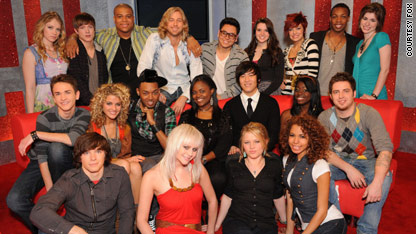 testing captions
"American Idol" will be mixing it up this week.
Instead of the women performing first on Tuesday night, Fox announced that, due "to medical issues which would prevent Crystal Bowersox from performing," the 10 male semifinalists will perform instead.
The women will perform on Wednesday night, with the results show on Thursday. According to a press release, the switcheroo will only be in place this week and the women will perform next Tuesday night and the men next Wednesday night.
I don't care who goes when as long as the group performs better than they did on week one. The Top 24 performances led to liberal use of the term "major suckage."
And I wasn't the only one who thought so. Many of you commented here that you were quite disappointed with the talent (or lack thereof) so far this season.
JC commented, "Of the 24, probably about 12 were really, really bad, another 6 were merely bad, and the other 6 were between ok and good." Rob wrote: "Idol is terrible, terrible this season. Any of them could have gone home and it would have made no difference to me."
Wow. It does seem like every season starts out kind of slow and then gets better. I hope season nine begins to pick up some steam soon.
Join CNN throughout the "American Idol" season as Lisa Respers France blogs live during the performance and result shows.