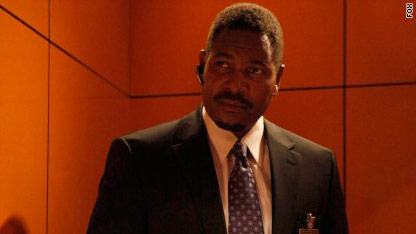 "24": Day 8 – 1 a.m. to 2 a.m.
After my unbridled enthusiasm for last week's episode of "24," I promised to "go Bauer" here at the office and I delivered. Throughout the day, after last week's episode, various colleagues made various statements such as "Shaquille O' Neal is having thumb surgery," or "I have NOT been watching Ellen Degeneres on 'American Idol.'"
To these random workplace statements and dozens of others, my response was "copy that."
I answered repeatedly in classic "Jack" style because like Bauerites far and near, I had every right to be energized and totally psyched for this week's episode based on the momentum of last week's show. I hoped that the season was building up to be the tense, action-packed, non-stop thrill ride we know and love.
Well, if last week's show was liftoff, this week sent me into orbit. It was another great show packed with a lot of the signature tension that makes me watch "24" season after season. One good show is a start, but two good shows is a streak, and "24" is officially on one.
I think the show has finally found consistent footing, and is headed in the right direction. Hey, its gotta be a good sign if I fist-pumped as Hastings stepped up on Renee's behalf right? Say again? Fist-pump for Hastings? Yes Bauerites, you heard me right: all aboard the Hastings' train.
His noble stance against Rob Weiss' instructions to railroad Renee got me thinking - this guy is alright. Bluetooth aside and poor posture notwithstanding (is that on purpose?), this Hastings guy deserves a chance. I shall hereby give him one.
Speaking of a chance, Agent Owens, or the "Jonas brother in the kevlar vest" as I like to call him, had a real chance to prove himself but just couldn't cut it. His anxiety made me nervous just watching him. As a matter of fact, my palms got sweaty just typing that.
Meanwhile, please add Farhad Hassan to my list of "hate-ables" for this season. The nuclear, fuel-rod stealing, double crosser only had to stay hidden a few more minutes until CTU arrived. He's shot twice and dies, and that just doesn't sit well with me. That's it buddy, you're on the list.
Conversely, I like President Taylor more as the season rolls along. She hasn't had a huge amount of dialogue in a few shows, but her stern approach to the crisis has been admirable, and she always seems to remain pretty graceful and concise. By the way, Cherry Jones (who plays President Taylor) is no slouch, and she's got an Emmy award and decorated acting career to prove it.
Plus, you gotta love the name Cherry Jones.
Last up: Dana (or Jenny, whichever you prefer). It was cool for the silly "Kevin/Dana subplot" to seemingly come to an end, but now it looks like its going to get messy. Unfortunately, Cole Ortiz is gonna get some of that mess on his clothes too, and that's NOT cool. Safe to say, he officially picked the wrong girl to settle down with.
Hopefully, the streak will remain intact and be extended to three in a row with another strong episode of "24" next week. Stay tuned Bauerites!
Loved, kinda liked, or hated the show? Let us know!