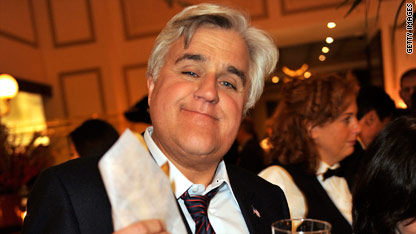 testing captions
No joke. Jay Leno returns on Monday night.
Leno is back as the host of "The Tonight Show" after a tumultuous period in which NBC canceled "The Jay Leno Show" and Conan O'Brien exited the network amid lots of barbs and headlines.
Monday night's announced guests include Jamie Foxx and Olympic Gold Medal skier Lindsey Vonn, plus a musical performance from Brad Paisley.
The return week will also feature appearances by an eclectic group including former Alaskan Governor and Vice Presidential candidate Sarah Palin, Winter Olympics star snowboarder Shaun White Olympian of all time Apolo Anton Ohno, comedienne and E! personality Chelsea Handler, Oscar-nominated director Jason Reitman, actor Morgan Freeman and the cast of "Jersey Shore."
Meanwhile, Conan has been laying low, sporting a beard and making use of his new Twitter account. After joking that he had interviewed a squirrel in his backyard and connected the freckles on his arm with a Sharpie, this weekend he wrote "This is only my 5th tweet and I'm already exhausted. My God, how does Ashton do it?"