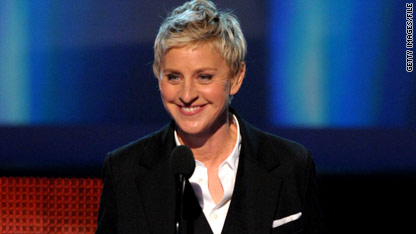 testing captions
Move over Simon Cowell, because there is another power player on "American Idol."
In an interview with TV Guide Magazine scheduled to hit newsstands on March 4, new "American Idol" judge Ellen DeGeneres talks about her role on the show and the part she'll play in picking Cowell's successor.
"Oh yeah," DeGeneres said in response to a question as to whether she gets a vote on who replaces Cowell. "That was part of [what was discussed] when I came in.  Cause we all had a suspicion that Simon might leave. Nobody knew for sure, but we made sure that I'd have a big [say] because that's important to me."
And that replacement won't be shock-jock Howard Stern, despite all rumors to the contrary, DeGeneres said.
"No one knows where that came from," she said. "I'm a part of that next person coming in, and I've had talks with Simon Fuller and a few people over at Fox. We have people that we're thinking about, and we want it to be a really exciting name and someone who would add something different to the panel."
Stern has had some less than kind words for DeGeneres, who she says can "engage in his own fantasy conversation."
As for whether she gets along with the prickly Cowell, DeGeneres characterized him as an OK chap even though she said she doesn't always agree with his style of critiquing.
"He's a nice guy but he's also really mean to people [in a way] that I think goes beyond just constructive criticism," she said. "It becomes almost taunting, which I don't like."