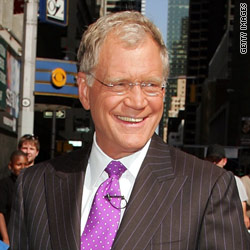 David Letterman got a lovely boost in ratings during NBC's late night schedule flub, but as Jay Leno prepares to reclaim his old job as host of "The Tonight Show" on March 1, the former rivals will be battling for viewers once again.
Leno's guest list for the first week back, you'll recall, features Jamie Foxx and Olympic Gold Medal skier Lindsey Vonn on Monday and Olympic Gold Medal snowboarder Shaun White and Sarah Palin on Tuesday.
Sounds like pretty tempting television and Letterman isn't going down without a fight. He has his own actor on Monday with the likes of Bill Murray, and will also have his own GOP card to play on Tuesday night with Mitt Romney.
He's following that up with Tom Brokaw and Jerry Seinfeld Wednesday, Tom Hanks on Thursday and Matt Damon on Friday.