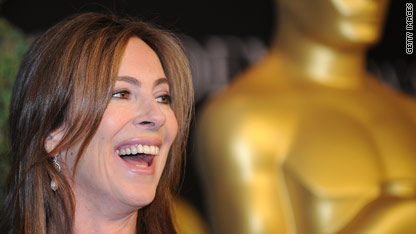 Kathryn Bigelow could very well make history next month, becoming the first woman to win the Academy Award for Best Director.  But while that would certainly be a triumph for the talented director of "The Hurt Locker," it wouldn't necessarily signal a sea change in Hollywood gender equality.
Women may be half of the population – slightly more, actually – but according to a new study, actresses had just under 30% of the speaking roles in the 100 top-grossing movies of 2007.  Stacy Smith of the USC Annenberg School for Communication and Journalism, who conducted the study, found things even more unbalanced behind the camera: 83% of the directors, producers, and writers on those films were men.  Rebekah Spicuglia of the Women's Media Center says that last year, just 7% of the top 250 movies had female directors, and only 8% of feature film writing slots went to women.
Naturally, subject matter dictates the casting of some films, whether a war pic like "Hurt Locker", which had almost exclusively men on screen, or a movie like 2008's "The Women," which had an entirely female cast.  But such oddities aside, what's going on here?  If most movies aim to capture a slice of life, why is that life so overwhelmingly male?  Most people expect Hollywood's version to be more glamorous and violent and funny and heartbreaking than everyday life, but skewing it by sex doesn't seem to make sense.

As for behind the camera, WMC President Jehmu Greene blames the old boys network:  "Hollywood is an industry set in its ways – a boys club with a focus on producing movies for a 14-to-25-year-old male audience.  Women now make up more than half the workforce in the U.S. and yet are still left out of writing, directing and producing top films.  Women filmmakers should have equal access to opportunities, funds, mentorship, and recognition for their work."
Another self-perpetuating theory is lack of role models: the number of high-profile female filmmakers hasn't reached the tipping point where enough young women are inspired to begin tipping that balance.  (In that case, perhaps a Bigelow win on March 7 could be a significant step toward balance.)
What do you think?  Are you bothered by the imbalance, on either side of the camera?  Any theories of your own as to the causes, or ideas on how to level the playing field?  And whether you're rooting for or against Bigelow at the Oscars, does it have anything to do with her gender?