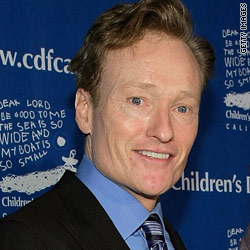 In our continued watch of "Celebrities Joining Twitter 2010," we've received word that the dolphin-smooching, out-of-work Conan O'Brien is the latest to sign up.
With the simple Twitter handle of "ConanOBrien," the former late night talk show host has tweeted just once, but already has more than 245,000 followers at the time of this posting.
O'Brien, who has laid fairly low since he left "The Tonight Show" in late January, informed Twitter users yesterday that he's exhibiting a few symptoms of withdrawal.
"Today I interviewed a squirrel in my backyard and then threw to commercial," he tweeted. "Somebody help me."
Even his bio is a characteristically self-deprecating: "I had a show. Then I had a different show. Now I have a Twitter account."