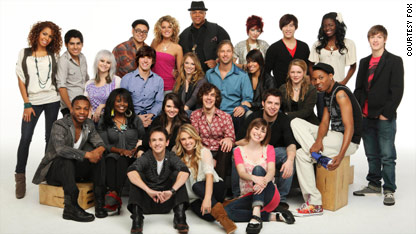 testing captions
*Spoiler alert: This post will reveal the names of the contestants eliminated from "American Idol." Do not continue to read this if you don't want to know the results.
Color me surprised. Out of the four that went home, I only predicted one correctly. I'm not sure America got it right, but the earlier performances were so subpar that frankly any number of contestants could have gone.
I hope that tonight made the remaining contestants realize that they really have to improve if they want a chance to make it to the top - at all.
How did you do with guessing who was going home?
8:56 p.m. Last one to go home. Casey James, Jermaine Sellers, Lee Dewyze and Andrew Garcia are safe.
That leaves Tyler Grady and Alex Lambert standing looking shocked. Simon predicts that Tyler is going home.
And the Brit is correct. Tyler Grady manages to blame it on the judges and their lack of "constructive criticism" during Hollywood week. Way to spin and deflect Tyler. Nicely done.
8:48 p.m. – Special announcement: "Idol Gives Back" returns on April 21. It was real special to see Ryan make a plea for more corporate sponsors.
Kris Allen is back to talk a bit about his trip to Haiti. He is still just as cute as a button. I had the opportunity to ask him some questions about his "Idol Gives Back" participation during a conference call a few days ago and he is just the nicest guy. Hearing him say "How's it going Lisa" made my heart flutter.
Back to the show, Kris sings "Let It Be" while we watch footage of his work in Haiti. I don't think we needed Seacrest to tell us ahead of time that it would be touching, but whatevs.
Sweet performance though.
8:37 p.m. – Tyler Grady is a special kid. I'll just leave it at that.
In terms of who is leaving us Michael Lynche, John Park, Aaron Kelly and Todrick Hall are all safe.
That leaves Tim Urban and Joe Muñoz ... and Joe is leaving?!?!?
What?!?!?!? Are you kidding me? Tim Urban was beyond wack!!! Joe had him beat by a mile.
I demand a recount!
8:26 p.m. -Back to the eliminations. Paige Miles, Lacey Brown (who really needs to be grateful), Lily Scott and Crystal "Mamasox" Bowersox are all safe.
That leaves Didi Benami and Ashley Rodriguez in the spotlight. Ashley is going home and I hate to say it, but her encore performance reminds us why.
8:22 p.m. – Oh how I have missed the little rocker chick!
Welcome back Allison Iraheta. The style squad has clearly been at work with the weave, the funky dress and combat boots. She's like Pink and Kelly Clarkson's little sister and a year has polished her already sharp performing skills.
She sings her little face off on her new single "Scars." And I am so glad that she has learned how to chat during the interviews.
8:12 p.m. – Ahhhh. The dreaded "hot seat." Siobhan Magnus, Haeley Vaughn, Katelyn Epperly, Michelle Delamor and Katie Stevens are all safe. Cue relieved and giddy family/friends.
Janell Wheeler gets the boot! Wow, I did not at all see that coming. True, her "What About Love" was karaoke, but I thought the viewers would cut her some slack.
Guess not.
8:07 p.m.– There is nothing I loathe more than a group performance. I like Estelle's "American Boy." When Estelle is singing it.
The "Idol version?" Super duper cheesy. Why, oh why do they do this to us?
Kara's husband is a hottie. Why did Casey James look like he forgot the words during the group sing??
8:00 p.m. – The drama is cranked up to high heaven tonight.
"They all are battling for their place in history?" It's not that deep, Ryan.
Here we go with the results.