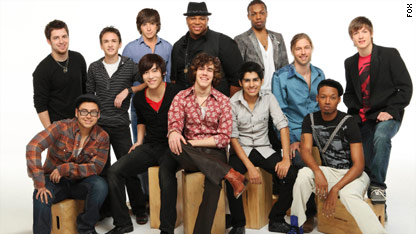 testing captions
The pressure is on Wednesday night for the Top 12 male "Idol" contestants.
The ladies were less than spectacular on Tuesday night, which left some fans wondering what happened to all of the girl power that was so prominently on display during Hollywood Week.
It's up to the men to really deliver some incredible performances on Wednesday night. That's going to mean bringing more energy, better song choices, and - according to the judges on Tuesday night - more originality.
This asks the question as to how original an "American Idol" contestant can really be given that such originality is sorely lacking even in the music industry. (Especially in the music industry.)
Plus, originality doesn't always go over well first time out of the box. Even Adam Lambert toned it down initially last season and didn't really cut loose into he was securely in the Top 10.
So far this season, Andrew Garcia has been pegged as an early fan favorite and shown the best ability in taking a song and making it his own.
The name of the game in the Top 24 is standing out from the pack, and Garcia has already managed to do that on Twitter – amassing thousands more followers before his first full performance than some of his competitors.
In a nod to the power of social networking, all of the contestants this season have Twitter and Facebook accounts - though it's doubtful given Fox's tight rein that they'll be responding to fan inquiries about the show.
Join CNN throughout the "American Idol" season as Lisa Respers France blogs live during the performance and result shows.