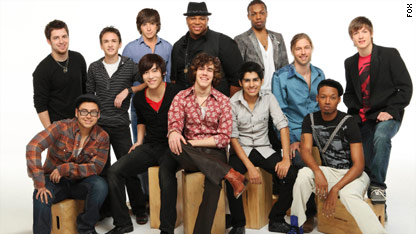 testing captions
9:52 p.m.: Andrew Garcia. What to say.
I hadn't been this excited about a contestant so early in the game since Mario Vazquez back in season four (may his career rest in peace). I thought tonight was going to be all about Andrew. Then when I heard Andrew and Fall Out Boy I was prepared to go nuts. Not so much.
Wow. I'm stunned.
9:40 p.m.: I'm glad to see that Casey James isn't ready to sue Kara for sexual harassment. She loves that cat!
Fox milked it for all it was worth to with the shots of her watching him adoringly. His version of "Heaven" was good, but sweet honey in the rock where is the star power on this show?
You have got to keep people awake during a two hour show and for that you need more than just the blonde locks and the cute face. That doesn't hurt though.
9:31 p.m. Alex Lambert, Mary Powers would like to have a word with you.
He might as well have said "Na, na, na, na, na." That's fine if you can back it up. His version of James Morrison's "Wonderful World" was very nasal and he looked like he was about to run off the stage. I felt bad for the kid.
They usually save the best singers to shine at the end and Alex fell short. You have to represent for the Lamberts, Alex, so please get it together!
It was also the first time during the night that I felt like "E" was being the Ellen people hoped she would be on the show - and who they tune into her show to see.
9:20 pm.: OK, I was up and dancing in front of the TV during Big Mike's performance.
I don't even care that I wasn't buying that he was playing that guitar. His version of Maroon 5's "This Love" was the hotness. I have been waiting all night to have a "Haaaaayyyyy that's my jam" moment and he gave it to me.
Thanks Michael Lynche!
9:14 p.m.: John, John, John.
You just won the worst song choice of the night award. John Park's selection of "God Bless the Child" was bad. It was really bad. And I have hearted this dude from day one. When KARA says it's "indulgent" you know there is an issue.
I think John is in some serious trouble. He may have scored some points by explaining why he chose the song, but it might not be enough.
9:04 p.m.: If Lee Dewyze stepped up his game, he could be  Danny Gokey 2.0.
He's got that Gokey look, and that raspy Gokey voice. Now he needs some Gokey mojo.
"E" and Simon were really digging him. I'm not yet convinced that he could be the next David Cook, but that's not Bad Company to be in. So to speak.
8:54 p.m.: "American Woman?" Really, Tyler Grady?
As a wise viewer pointed out, this kid is a cross between Jim Morrison and Shaun White with the look - but definitely not the former with the vocals. (Ed. note: Or Lenny Kravitz or Burton Cummings, for that matter.) He's almost a caricature and I thought for sure Ellen was going to come back with some funny comment about his schtick.
And FYI, schtick is not good for an aspiring Idol.
8:48 p.m.: Confession time.
I had totally forgotten about Joe Muñoz. His voice is pleasant and he was getting his groove on a little bit to Jason Mraz. He gets points for at least moving a little bit.
I wouldn't agree with Kara that so far he's been the best. It seems he at least understands the concept of "performing" and not just singing. Hopefully we will get to see more of him to see if he has something else in his bag.
8:36 p.m.: Somewhere Kris Allen is sticking his fingers in his ears.
Kris' version of OneRepublic's "Apologize" was so much better than Tim Urban's. You want this guy to make it because it would be a great comeback story. Way to blame the last-minute song switch, Tim. Simon scored a huge blow by saying the judges made the right choice in cutting him the first time.
Ouch! Simon is beyond brutal tonight. I'm going to miss that so much.
8:25 p.m: I remember Jermaine Sellers from when he was a contestant on the BET gospel competition "Sunday's Best." I liked him on that show and I still like his voice, but I think he may have overdone it a bit.
The thing about the church voice is that it can be used as a weapon in the wrong hands. Oleta Adams' "Get Here" is such a beautiful song and I thought he would wring every emotional note out of it, but no.
But I am going to get super annoyed if every time someone does a throwback song they get the "You're young" criticism. Good music is timeless and if you have the talent, you can sing anything.
And you were wrong for the "Stanky Leg" directed at Simon, Jermaine. You know Cowell lacks a hood pass and has no idea what that is!
8:15 p.m.: Aaron Kelly is such a little sugar-face. He reminds me of someone's baby brother, with his spiky hair and toothpaste ad smile. I thought "Here Comes Goodbye" was a great song choice for him. Nice vibe, good voice and the big finish "Idol" thrives on.
This is starting out so much better than Tuesday night. Take note ladies!
8:10 p.m.: OK, Kara looks like she is about to climb into Simon's lap. She is really taking the Paula fill-in role seriously, huh? And I am glad that Ellen acknowledged that the judges aren't quite seeing in studio what we are seeing at home.
First up is Todrick Hall singing "Since U Been Gone." At least that's what Ryan said it was. The song was completely unrecognizable from the original - which isn't necessarily a bad thing. I agree with Randy that Todrick is "mad talented" and I get that he was trying to mix it up, but it might have been a little too mixed up for the voting public.
Way harsh words though, Simon! If the singing thing doesn't work out, perhaps Todrick can look to producing.