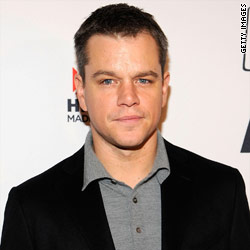 Deadline Hollywood reports that Matt Damon has been tapped to portray Robert F. Kennedy in a new biopic based on the Evan Thomas biography, "Robert Kennedy: His Life."
Damon's rep confirmed to CNN that Damon is attached to the project, and added that it's still in the very early stages of development.
The actor has been riding a wave of critical success as of late with leading roles in two of 2009's notable films, "The Informant!" as well as "Invictus," the latter of which has earned Damon an Oscar nod for best supporting actor.
Do you think he can pull off the role of RFK? And if not Damon, who?