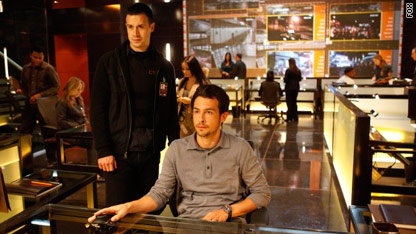 "24": Day 8 - 12 a.m. to 1 a.m.

Let's get right to it. This week's episode of "24" is the kind of episode we (a) pump fists for, and (b) pledge allegiance by.
Bauerites, we have liftoff. I've been pretty hard on the show in recent weeks, and many on this blog stood united on that front. We have been wanting more from Jack and the show to this point, and finally, we got the goods. The only word I can think of for this week's episode is fantastic. Seriously, that's the only one.
The show was so fantastic that I actually heard a CTU Senior Analyst say "My name is not Dana Walsh." (Me speaking to the TV: "Excuse me? Your name's NOT Dana Walsh?") Now, try to picture me raising up in my comfy "watching 24" chair, finally freed from the ball-and-chain of the dreaded Dana/Kevin storyline.
Freedom from this incredibly dumb subplot? Thank you! FULL POST