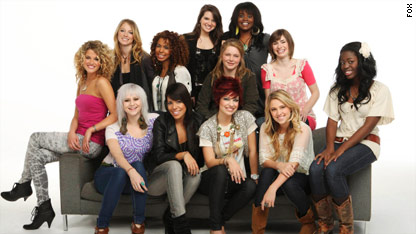 testing captions
*This post will be updated throughout the performances, so keep checking back.
Randy wants them to really "wreck the stage with their vocals?" I guess.
Ellen is dressed like a banker on vacation. I loved her joke that Simon "wants her." That was a pretty funny skit with him trying to get a little closer to our newest judge.
"Hits from the Billboard charts" could be just about anything so I'm a little concerned about song choice.
First up, school teacher Paige Miles. Her version of "All Right Now" by Free was a tad bit hard to listen to. I'm not sure if it's nerves or the acoustics, but I winced at some points.
I'm also not sure what the judges were listening to, cause they seemed to dig it. Go figure. As for Paige's "I've been waiting to pee for the last five hours," TMI Boo!
8:18 p.m. – Ashley Rodriguez. There is something I really like about her. Leona Lewis' "Happy" is not an easy song to sing especially in front of Simon Cowell, the man who discovered Lewis.
Like Paige, I don't think this was the best song choice for Ashley. Kara thinks Leona Lewis is "our generation's Mariah Carey?" I am so not a Kara fan, but I am trying to be more open this season.
Anyway, the rest of the judges are so much more critical of Ashley than Paige and I am not sure if it was warranted. I mean, she wasn't awful. Just not amazing.
8:28 p.m. – Three performances in and I am still waiting to be blown away. I think Janell Wheeler may have been harmed by the footage of her from Hollywood. She was so awesome then and her version of "What About Love" tonight, not so much. I wanted her to pull off a Carrie Underwood move similar to when Underwood sang "How Do I Get You Alone." It didn't happen. *SIGH*
8:37 p.m. – I don't think I quite get Lilly Scott. She reminds me of a funkier version of Jewel and I feel like I should really, really be into her (perhaps it's the aspiring hipster in me). I like that she took to the stage with her guitar. It felt a little coffee house for a minute, but not in a bad way. Honestly, you sing the Beatles even halfway decently and I'm feeling you.
But what was up with the shot of Kara and Simon chatting away when Ryan was talking to Lilly? Are we going to have the Paula-Simon silliness from last season redux? I pray not cause that was a bucket full of foolishness!
8:48 p.m. – Ok, that's what I'm talking about! The show didn't really start for me until Katelyn Epperly's "Oh! Darling." "Idol" is all about the soaring notes and the big voices. Her look was giving me an updated Cyndi Lauper/Madonna, but I think it worked for her. She really needed to stand out and I think she did that. I think she has a good shot.
8:53 p.m. – I'm going to go on record and say I am anti-nose rings for teens. That being said Haeley Vaughn (new nose ring and all) presents a bit of quandary for me.
My heart is cheering her efforts to become a successful African-American, pop-country artist. But her voice has that potential to really get on my nerves. I wasn't loving her version of "I Wanna Hold Your Hand." I'm trying to cut her some slack cause she's only 16, but still.
P.S. I think someone needs to clue Ellen into the definition of "hot mess." It ain't a good thing.
9:05 p.m. – Is Lacey Brown this season's Megan Joy? Brown lost out on getting on the show last season because Joy got her spot and I remember initially thinking Megan had potential. Then it became "The horror! The horror!"
I hope that is not the case with Lacey. I agree with the judges that she seems like she should be better than tonight's performance. I hope so. Also, we were hit with Simon's first "indulgent" criticism. You knew it was only a matter of time.
9:14 p.m. – I like Michelle Delamor's voice, but she may have overdone it with the performing and not enough with the singing. If you are going to try and come for Alicia Keys, you have to be so on point. She's got a great look and while she is a professional singer, I have yet to see the "it" factor.
The thing is that tonight has been so so-so that I think people are just going to be happy to see someone nail a note.
9:19 p.m. – Didi Benami was not "indulgent." A little boring, but not "indulgent." I had Didi pegged for one of the brightest performers and I was so excited to see her tonight.
Where in the world are the female singers we saw during Hollywood week? I loved those chicks and none of them have showed up yet tonight!
9:30 p.m. – Siobhan Magnus, who knew?!?!? Love the new look and I enjoyed her "Wicked Game." She can really sing!
She did what I expected some of the other women to do, which was take a song and wring out some love for it with a subdued, but powerful performance. I couldn't figure out why the judges were so crazy over her during her final song during Hollywood week, but now I get it. She's going to have to bring some more personality and energy if she wants to go all the way, but it was a great start.
So what if she doesn't know what it means to be a "dark horse." She's it!
9:40 p.m. – I love Crystal Bowersox, but I almost wish she would have waited for "X Factor" to begin. She's so talented, but I'm not sure if she DOES fit in with "Idol."
Everyone keeps talking about how original and fresh that she is, but as we learned with Adam Lambert, that can also be very polarizing. People either really, really get it or they absolutely hate it. I think Crystal is just super cool and I hope America gives her a chance. I really think she is going to shine, I just worry that she might get lost if she makes it into the top 12 and they start doing the themes.
Can you picture Crystal singing a Broadway tune?
9:51 p.m. – Well, all right Ms. Katie Stevens! This little kitten has some claws. She looked a bit like she was playing dress up, but oh my she sang. I'm not sure what the judges were listening to. Pitchy? I think not!
For a teen, she owned that stage and I'm not sure why Ellen was tripping over her words. I didn't at all think that "Feeling Good" was too old for her. She's 17, not 7! Sometimes I really wonder if we at home are watching the same show as the judges.