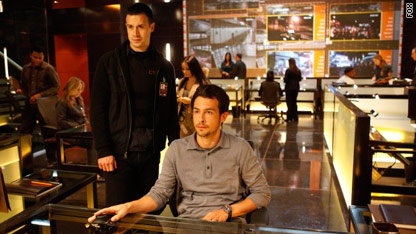 "24": Day 8 - 12 a.m. to 1 a.m.

Let's get right to it. This week's episode of "24" is the kind of episode we (a) pump fists for, and (b) pledge allegiance by.
Bauerites, we have liftoff. I've been pretty hard on the show in recent weeks, and many on this blog stood united on that front. We have been wanting more from Jack and the show to this point, and finally, we got the goods. The only word I can think of for this week's episode is fantastic. Seriously, that's the only one.
The show was so fantastic that I actually heard a CTU Senior Analyst say "My name is not Dana Walsh." (Me speaking to the TV: "Excuse me? Your name's NOT Dana Walsh?") Now, try to picture me raising up in my comfy "watching 24" chair, finally freed from the ball-and-chain of the dreaded Dana/Kevin storyline.
Freedom from this incredibly dumb subplot? Thank you!
Color me giddy as Cole got Dana's location coordinates downloaded to his PDA (a signature "24" move). I know for a fact Bauerites across this great land were rejoicing as the story unfolded. I was ecstatic.
Of course, I never thought for one second that Dana was going to "off" the beat-up van guys. Let's review, shall we?
Patented, quiet drive-up in her car? Check. Pistol? Check. Silencer to attach to pistol? Check. Actual guts to murder these clowns? Nope. I didn't believe it for a second, but Cole swooping in to deliver his message to the bad guys earned him some bonus points in the process. Well played Cole Ortiz, well played indeed.
As for Renee taking the fall, that interview scene was simply riveting and downright awesome. For the record, I'm not saying I cried when the single tear began taking that journey down her cheek, but I looked away briefly - and I'm OK with that.
Meanwhile, how about Farad Hassan? He went from sinister mastermind to cowering, wounded guy running for his life pretty quickly. I didn't see that one coming, but he never impressed me as a guy who could pull any of it off anyway. As far as I'm concerned, just take it easy Farad. If Jack and the CTU gang doesn't make it to you, you won't make it either. That's kind of how it goes when you double-cross your brother and get double-crossed buddy.
Next week should be another great show, and I'm excited. In honor of this week's extraordinary episode, I've decided to "go Bauer" all day today. My coworkers will get plenty of "copy thats" when they say "good morning" or "goodbye", and a few unsuspecting colleagues will be asked to "download the schematics of the fax machine to my blackberry" when I have trouble using it, because that's exactly what Jack would do.
Loved, kinda liked, or hated this week's show? Let us know!