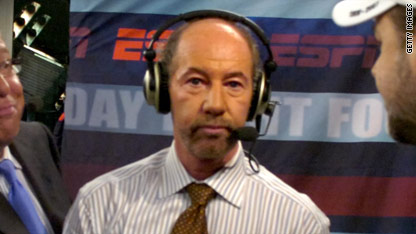 testing captions
Now it's Tony Kornheiser who has put his foot in his mouth.
The co-host of ESPN's "Pardon the Interruption" - known as much for his sarcastic jokes as his sports talk - turned his commentary to ESPN colleague Hannah Storm's outfit on his radio show last week.
According to The Sporting News, Kornheiser called a Storm outfit "horrifying" and described its fit on her as "like she has sausage casing wrapping around her upper body."
Kornheiser later apologized, saying, "I'm a sarcastic, subversive guy ... I'm a troll, look at me. I have no right to insult what anybody looks like or what anybody wears."
But the damage had been done. Today, ESPN announced Kornheiser's been suspended temporarily. (UPDATE: USA Today reports Kornheiser's suspension is two weeks.)
What do you think? Did the penalty fit the crime?