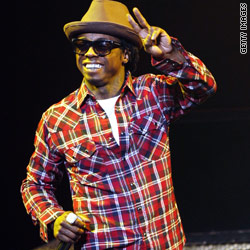 Among the myriad of things one should do the week before being sentenced to prison, getting a Twitter account is surely high up on the list.
Rapper Lil Wayne, who is due back in the Manhattan Supreme Court next Tuesday for sentencing, officially started tweeting on Monday.
His location? Mars, of course. (As his fans know, Wayne has repeatedly said that he is not the same as the rest of us, and is in fact a Martian.)
In his first tweet, Wayne explained, "im super new to this twitter [expletive] but wudup tho !" before adding in a birthday shout-out and a little encouragement for the Twitter community to start following him. At the time of this posting, Wayne already had around 61,000 followers.
He's certainly not one of the top celebrity Twitter users yet - his last tweet was about 9 hours ago - but there's hope that he'll keep it up even after his sentencing.
Wayne's manager, Cortez Bryant, told Rolling Stone that Twitter could be one of the ways Wayne will stay in touch with fans while he's serving his bid.